You are here:
Full-featured Real-time Application Processor
The mid-range Andes Technology N10 processor is ideal for applications ranging from consumer media players and smart glasses all the way to touch panel processing, motor control, and power management. The N10 features a 5-stage pipeline and operates at over 800 MHz clock rate providing plenty of performance for automotive electronics and industrial control. It also comes with I/D cache or local memory options that enable the core to more efficiently perform for networking or communication applications.

In the fast growing IoT market, the highly performance efficient N10 processor can be used as IoT gateway to bridge those ZigBee, Bluetooth or WiFi sensor devices to the internet connectivity. In addition, with the tightly-coupled IEEE-754 compliant NCESFP100 single-precision floating point unit (FPU), the N10 processor can be used in the high precision sensor devices to manipulate the data from ADC which converts physical continuous sensor signals to digital data.


Features
Caches for fast code and data accesses

Local Memories for deterministic code and data accesses

IEEE754-compliant FPU coprocessor

Memory Protection Unit (MPU) for secure RTOS

Memory Management Unit (MMU) for Linux
Benefits
Performance

Highly compact program size through AndeStar™ V3 ISA

Single-cycle latency for most of 32-bit operations

Extensive branch predictions (BTB and RAS) to speed up branch control

MMU and MPU for memory management

Zero-wait-state local memory with 1D/2D DMA for mass data transfer efficiently

Flexibility

All-C Embedded Programming

Stack protection hardware to help determining stack size needed, and detect runtime overflow error

Processor state bus to simply SoC design and debugging

Support boot-up from instruction local memory

Power Management

Highly clock gating and logic gating

Low power modes initiated by SW or SoC

N:1 core vs. bus clock ratios

PowerBrake technology to reduce peak power consumption
Applications
Video event data recorder (VEDR)

Wireless device

Networking device

Storage device

DSC

DVC

Digital home

Embedded controllerr
Block Diagram of the Full-featured Real-time Application Processor IP Core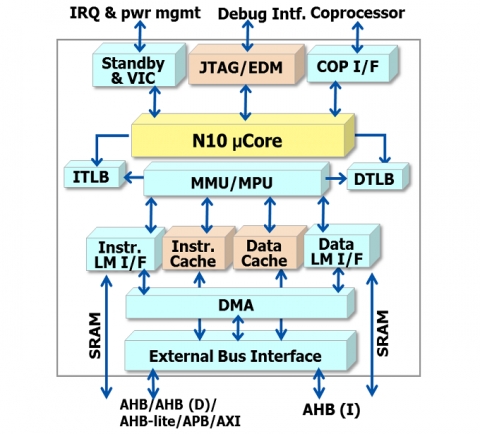 ---
View Full-featured Real-time Application Processor full description to...
see the entire Full-featured Real-time Application Processor datasheet
get in contact with Full-featured Real-time Application Processor Supplier