You are here:
Full HD/UHD video and vision integrated platform solution
The full HD/UHD video and vision platform integrates both full-HD/UHD multi-standard video codecs and embedded vision acceleration on a single silicon footprint with minimum load on the host CPU. The integrated multi-standard stream processing unit supports high bitrate encoding and decoding.

Multi-standard video decoding in full HD resolutions and scalability up to UHD is supported for all relevant video standards like H.264/AVC, MVC, WMV9/VC-1, and Google VP8 / WebM Project with upgradeability to future upcoming standards on the same device, e.g., H.265/HEVC. Multi-standard HD video encoding is supported with an enhanced set of compression tools and a wide range of customization options, e.g., for low latency or high dynamic range encoding applications. The unified video & vision platform further operates as a high-performance embedded vision accelerator, enabling natural user interface (NUI) or advanced automotive driver assistance functions in a truely embedded low power, size-constrained environment. The optimized OpenCV vision library available for the unified video & vision platform unlocks the potential of a worldwide vision developer community for a wide range of vision applications being accelerated on the videantis platform.

The full HD/UHD video and vision platform is available as a drop-in solution proven in real system environments and optimized to tolerate long memory access latencies of real-world systems. Extensive conformance testing has been performed to assure high product quality and full customer satisfaction. Through its field upgradeability in silicon, the video & vision platform provides a future-proof solution for extended product lifetimes through the addition of further codecs, embedded vision functions and value-add features simply by firmware update.
---
View Full HD/UHD video and vision integrated platform solution full description to...
see the entire Full HD/UHD video and vision integrated platform solution datasheet
get in contact with Full HD/UHD video and vision integrated platform solution Supplier
Block Diagram of the Full HD/UHD video and vision integrated platform solution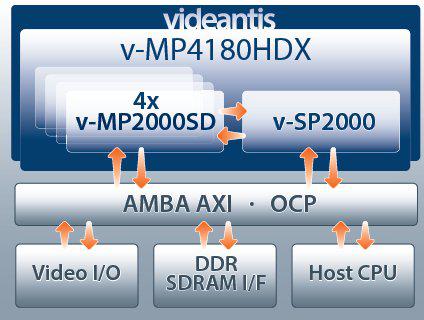 Full HD/UHD video and vision integrated platform solution IP