You are here:
Fully differential RF ADC Driver
The TI-RF-DRV is a fully differential RF driver designed for differential signal processing applications. The driver can be used as a single-ended-to-differential amplifier or a differential-to-differential amplifier. Gain is adjusted externally by connected resistors. The device uses an internal feedback structure providing balanced output gain and phase matching. The common-mode level of differential outputs is adjusted by «VCM» voltage that allows to shift easily the input signals for driving single-supply ADCs. ESD-protection provided.
Features
3 dB bandwidth of up to 350 MHz

Settling time: 11 ns

Slew rate: 880 V/us at least

Output voltage swing: 9 V

SFDR: 85 dBc

CMRR: 88 dB

Max output current: 100 uA

Operating temperature range: -40 °C to +85 °C
Benefits
Externally adjustable gain

Adjustable output common-mode voltage

Typical folded cascode electrical scheme in schematic basis

Input stage cascade implemented in CMOS transistors providing low input bias current

Two versions with different conductivity types of input differential stage
Deliverables
Datasheet

GDSII database

Customer support
Applications
ADC drivers

Single-ended-to-differential converters

IF and baseband gain blocks

Differential buffers

Line drivers
Block Diagram of the Fully differential RF ADC Driver IP Core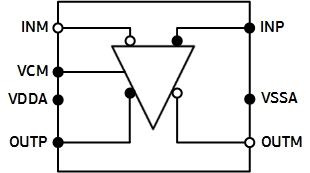 ---
View Fully differential RF ADC Driver full description to...
see the entire Fully differential RF ADC Driver datasheet
get in contact with Fully differential RF ADC Driver Supplier