You are here:
Fusion Recurrent Neural Network (RNN) Accelerator
The NEUCHIPS RNNAccel-200/100 is a Deep Learning Accelerator IP which empower neural network inference for SoC/MCU/DSP. It is designed especially for ultra-low power applications and targeted toward mWatts edge devices. Including a neural network compression engine, it largely reduces memory footprint and memory access power. Supports popular AXI/AHB bus interfaces and companion tools to easy integrate, evaluate, and validate. RNNAccel is the smart solution to empower neural network on your edge processors.
Features
Multi-layer fusion neural network (each layer can be of type RNN, LSTM, GRU, or FC/MLP)

Multiple concurrently neural networks

Parameterized number of neurons for input/hidden/output layer

16-bit fixed-point input/output

8-bit/16-bit fixed-point weight/bias

NeuCompression: 5.3X-16X (6~2 bits per weight) smart parameter decoder

Configurable decimal point position for input, weight/bias and output of each layer

Configurable 16 16-bit x 16-bit or 32 16-bit x 8-bit MACs

Activation functions: Softsign, Sigmoid, ReLU, Tanh

AMBA3 AXI/AHB on-chip-bus compliant
Benefits
MAC utilization up to 99%

Energy efficiency 2.06 TOPS/W

Peak performance can scale up to 204.8 GOPS

High accuracy compression

Toolchain

Bit-accurate C simulation C

NeuCompression: smart parameter compression tool

Supporting Network Types

Vanilla Recurrent Neural Network (RNN)

Long Short-Term Memory (LSTM)

Fully Connected (FC)/ Multi-Layer Perceptron (MLP)

Gated Recurrent Unit (GRU)
Applications
Recommendation system

eCommerce
Block Diagram of the Fusion Recurrent Neural Network (RNN) Accelerator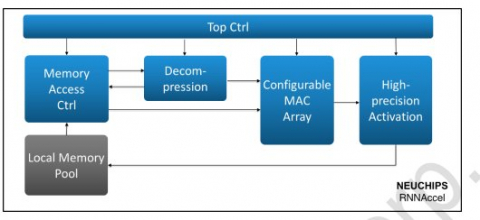 ---
View Fusion Recurrent Neural Network (RNN) Accelerator full description to...
see the entire Fusion Recurrent Neural Network (RNN) Accelerator datasheet
get in contact with Fusion Recurrent Neural Network (RNN) Accelerator Supplier