You are here:
GPIO Controller
This GPIO Controller provides some unique features that eases system integration and use. Each GPIO port can be configured for input, output or bypass mode. Output data can be set in one access or single or multiples bits can be set or cleared. Every GPIO port can serve as an interrupt source and has its own configuration options:
- Level sensitive, single edge triggered or level change
- Active high or low respectively rising edge or falling edge
- Individual interrupt enable register and status flags
Features
Up to 32 ports

Each port can be input, output or bypass

Data set or bitwise set and clear control

Input data synchronization

Flexible interrupt generation for each GPIO pin

Supports synchronous bus interfaces such as AMBA APB version 2.0

Full synchronous design

Synthesis Options
Benefits
For gate-count optimization, the core can be configured to disable the configuration register read-back path. Synthesis options are included to use the core in 8, 16 and 32-bit systems. The number opf ports is selectable as well.

With a separate APB wrapper, the core can be used in ARM subsystems.
Deliverables
VHDL or Verilog RTL Source Code

Functional Testbench

Synthesys Script

Data Sheet

User Guide

Hotline Support by means of phone, fax and e-mail
Applications
Industrial control

System-on-Chip

Peripheral Logic

Embedded Systems
Block Diagram of the GPIO Controller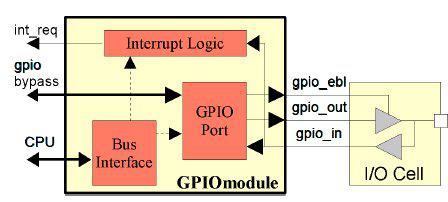 ---
View General Purpose Input / Output Controller (GPIO) full description to...
see the entire General Purpose Input / Output Controller (GPIO) datasheet
get in contact with General Purpose Input / Output Controller (GPIO) Supplier