You are here:
General purpose microprocessor incorporating a high performance L1 cache controller and virtual memory management support for high performance embedded system applications
The MIPS32® M5150 core from Imagination Technologies is a member of the MIPS32 M5150 processor core family. It is fully confgurable/synthesizable, ideally positioned to support new products for emerging segments of the digital consumer, network, systems, and information-management markets, enabling new tailored solutions for embedded applications.

The M5150 core implements the MIPS® Architecture Release-5 ("R5" incorporating enhanced functionality for next generation MIPS-Based™ products) in a 5-stage pipeline. It includes support for the microMIPS™ ISA, an Instruction Set Architecture with optimized MIPS32 16-bit and 32-bit instructions that provides a significant reduction in code size with a performance equivalent to MIPS32. The M5150 core is an enhancement of the microAptiv™ UP, designed from the same microarchitecture, including the Microcontroller Application-Specific Extension (MCU™ ASE), enhanced interrupt handling, lower interrupt latency, native AMBA®-3 AHB-Lite Bus Interface Unit (BIU), with additional power saving, security, debug, and profiling features. In addition, the M5150 core includes the MIPS Architecture Virtualization Module that enables virtualization of operating systems, which provides a scalable, trusted, and secure execution environment.

The M5150 core has an option to include the MIPS Architecture DSP Module Revision 2 that executes digital signal processing capabilities, with support for a number of powerful data processing operations. An optional IEEE 754 compliant Floating-Point Unit (FPU) provides both single and double precision instructions

Features
Architecture

MIPS32 Release 5 Architecture

microMIPS ISA Enhanced code compression ISA of combined 16- and 32-bit instructions

Supports all existing MIPS32 instructions; adds new 16- and 32-bit instructions

Enables up to 30% code size reduction relative to 32-bit only code

Hardware Virtualization

Create multiple execution environments (Guest) isolated from each other, operating at kernel privilege level

Hypervisor/Secure Monitor (Root) manages access rights for each Guest

Supports Type 1 and Type II hypervisors

Supports up to 7 Guests, each supplied a unique ID; Guest OS runs un-modified

7 new instructions facilitate Root-to-Guest communication

Supports multiple Memory Management Unit options for optimum area vs. functionality

M5100 – FMT + Root Protection Unit

M5150 – Guest TLB + Root TLB

M5150 – Guest TLB + Root Protection Unit

Allows sharing of resources (memory, DSP, FPU etc.) between Guests

DSP Module r2

Dedicated pipeline, operates in parallel with core integer pipeline

Implements over 150 instructions, including 70 SIMD and 38 Multiply/MAC instructions

Enhanced Multiply & Divide Unit

Single cycle throughput multiply and MAC operations

Supports 32x32, 16x16, dual 16x16, dual 8x8, dual 8x16

Supports up to 4 Accumulators

Floating Point Unit (FPU)

Single and double precision IEEE 754 compliant FPU

Supports IEEE-754 2008 Nan and ABS instructions

Dedicated 7-stage pipeline, operating in parallel with core integer pipeline

Most instructions execute with 1 cycle throughput and 4 cycle latency

Executes 1:1 Core:FPU clock ratio

Supports both MIPS32 and microMIPS instructions

Anti-Tamper

Injection of random pipeline stalls

Cache/SPRAM address and data scrambling

2 pseudo random number generators for use by the user software and core logic

Memory Controller

M5150 – L1 cache controller for Instruction and Data sizes up to 64KB, 4-way set associative

M5100 – 32-bit address and data SRAM interface, separate or unified instruction and data interface

Bus Interface Unit

EJTAG Debug & Trace

Secure debug feature – prevents streaming instructions through the EJTAG port

Supports enhanced iFlowtrace™ with additional event trace modes

Simple/Complex instruction and data breakpoint support – 2I/1D, 4I/2D, 6I/2D, 8I/4D

Support for 2 Performance Counters with multiple event type options

Instruction and data address sampling: zero overhead, qualified read/write

Support for 2-wire cJTAG debug interface

Power Management

Incorporates extensive fine-grain clock gating

Implements a Power Down mode initiated by a WAIT instruction

Expandability

Optional co-processor (COP2) and CorExtend™ / User Defined Instruction (UDI) interfaces
Benefits
Standard architecture, proven in millions of SoC designs

High-performance, area- and energy- efficient architecture: performance requirement achieved at lower frequency and smaller size than the competition

Hardware virtualization – supports multiple software environments running independently, securely, efficiently and in complete isolation to each other

Available in microcontroller and embedded processor versions for use in a wide range of operating environments

Combined MCU and DSP technology for cost-effective signal processing

Flexibility and scalability – single design to cover a broad range of applications

FPU to accelerate real-time control in industrial, automotive and digital consumer applications

Broad software and ecosystem support, and mature toolchain

Available as synthesizable IP for implementation in any process node, with standard cells and memories
Applications
Industrial control and automation

Internet of Things (IoT), Machine to Machine (M2M)

Wearables

Home appliances, digital consumer products

Automotive

Cloud computing

Network communications

Storage
Block Diagram of the General purpose microprocessor incorporating a high performance L1 cache controller and virtual memory management support for high performance embedded system applications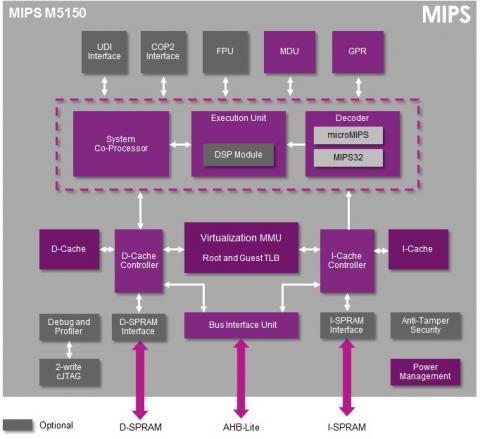 ---
View General purpose microprocessor incorporating a high performance L1 cache controller and virtual memory management support for high performance embedded system applications full description to...
see the entire General purpose microprocessor incorporating a high performance L1 cache controller and virtual memory management support for high performance embedded system applications datasheet
get in contact with General purpose microprocessor incorporating a high performance L1 cache controller and virtual memory management support for high performance embedded system applications Supplier