You are here:
Generic Platform IP for Micro-Controllers
AE210P is a generic SoC platform IP which provides users with high flexibility, low cost and fast time to market for micro-controller applications such as Internet of Things (IoT) and Wearable Computing. To minimize the cost, the bus structure of AE210P can be simplified to one APB only. To maximize the performance, AE210P can be configured to add an AHB bus matrix. All the bus controllers, bridges, and peripheral IPs of AE210P are designed to minimize the access latency, the logic gate count, and the power consumption. Through the provided interfaces, users' designs can be easily integrated to the platform.

Features
Bus Controller / Bridge

AHB Bus Matrix Controller (BMC)

AHB-to-APB Bridge (APBBRG)

APB Decoder (APBDEC)

AHB Bus Components

DMA Controller (DMAC)

Local Memory Bridge (LMBRG)

APB Bus Components

UART Controller

SPI Controller

I2C Controller (IIC)

GPIO

Timer (PIT) / PWM

Watchdog Timer (WDT)

Real Time Clock (RTC)

Architecture

Supports AndesCore™ N705/N801/E801/S801/N968A/N1068A/D1088

Provides two bus structures

APB-only

AHB bus matrix with APB

Provides interfaces for design extension/integration

AHB master/slave interfaces

APB slave interface

Interrupt signals

DMA handshake signals
Benefits
The AE210P provides a wide range of highly optimized standard peripherals to simplify and accelerate SoC development for MCU applications.
Block Diagram of the Generic Platform IP for Micro-Controllers IP Core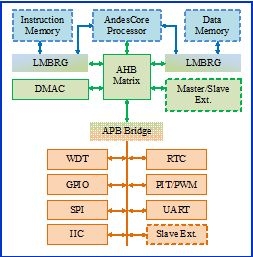 ---
View Generic Platform IP for Micro-Controllers full description to...
see the entire Generic Platform IP for Micro-Controllers datasheet
get in contact with Generic Platform IP for Micro-Controllers Supplier