You are here:
GMR-1 High Speed LDPC Decoder
The LCD01G is a fully compatible GEO Mobile Radio (GMR-1) LDPC error control decoder. GMR-1 is used by a number of mobile satellite communication systems. This is a high speed version of the standard, providing decoding speeds significantly greater that that required for individual channels. For a 200 MHz clock, decoding speeds ranges from 25 Mbit/s for the slowest code to 120 Mbit/s for the fastest code.
Features
GEO Mobile Radio (GMR-1) compatible

Nominal code rates of 1/2, 2/3, 3/4, 4/5 and 9/10

Data lengths from 488 to 8880 bits

Optional QPSK, 16APSK and 32APSK demapping, descrambling and deinterleaving

Includes ping-pong input and output memories

Up to 248 MHz internal clock

Up to 143 Mbit/s with 30 decoder iterations

8-bit log-likelihood-ratio (LLR) or 9-bit inphase and quadrature two's complement input data

Programmable signal points

Up to 256 iterations

Scaled min-sum Gauss-Seidel decoding algorithm

Optional power efficient early stopping

Parity check output

Xilinx 7-Series: 19,008 LUTs, 55 18KB BlockRAMs. Altera Stratix-II 17,853 ALUTs, 168 M4K; Cyclone IV: 30,930 LEs, 120 M9K; Cyclone V: 17,435 ALUTs, 121 M10K.

Available as EDIF core and VHDL simulation core for Xilinx 7-Series FPGAs under SignOnce IP License. Actel, Altera, Lattice and older Xilinx FPGA cores available on request.

Available as VHDL core for ASICs

Free simulation software
Deliverables
All Licenses

EDIF Core

VHDL Simulation Core

Test vector generator

ASIC License
Applications
Mobile satellite communications
Block Diagram of the GMR-1 High Speed LDPC Decoder IP Core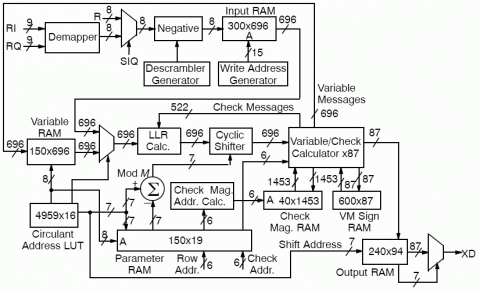 ---
View GMR-1 High Speed LDPC Decoder full description to...
see the entire GMR-1 High Speed LDPC Decoder datasheet
get in contact with GMR-1 High Speed LDPC Decoder Supplier