You are here:
GNSS Software Receiver IP
The Software Receiver is the next generation Global Navigation Satellite System (GNSS) receiver covering GPS and SBAS satellite systems. The software receiver is designed to fully replace existing hardware receiver solutions by fully executing the receiver main tasks (searching, tracking and positioning) in software. The receiver is High performance, fully
customizable implementation running on various DSP's and processors. Best fit to market segments requiring low power, high performance
and small size - Internet of Things (IoT)
Features
Low cost

Software only solution

 Flexible architecture

 No physical footprint

 Tradeoff power vs. performance

Up-gradable solution - introduce new features as they arrive

Flexible GNSS constellation - install ONLY what you need

Can Co-exist with other software on DSP (soft RT)

Small memory footprint and low MCPS consumption

Ready for sensor fusion/integration

Improve accuracy and enable indoor navigation
Deliverables
Supported systems : GPS, SBAS

Time : 50 [nSec]

Speed : 0.05 [m/sec]

Accuracy (@ C/N0= 44dB/Hz)

Sensitivity C/N0[dB]

Autonomous acquisition: 22

Tracking:12

Receiver

Tracking: L1, C/A

Channels: unlimited

Update rate: 10[Hz]

Max Altitude: 50,000 [m]

Max Velocity: 500 [m/s]

Protocol support: NMEA, Digital
Applications
Internet of Things,

Mobile phone,

m2m,

Automotive,

Tablet
Block Diagram of the GNSS Software Receiver IP IP Core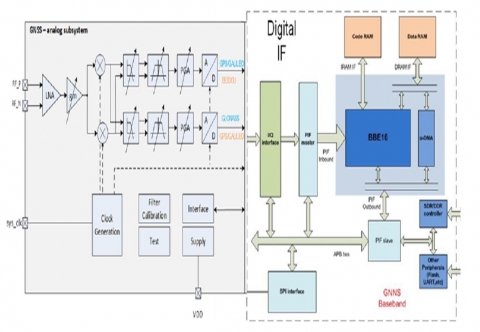 ---
View GNSS Software Receiver IP full description to...
see the entire GNSS Software Receiver IP datasheet
get in contact with GNSS Software Receiver IP Supplier