You are here:
GSM GPRS EDGE Protocol Stack SW IP
A 2.5G GSM/GPRS/EDGE SW Protocol Stack that has been integrated with multiple basebands and shiped in 1bn phones and M2M modules world wide. Extensively field trialed, extremely modular, and independent of undelying hardware.

GSM/EGPRS handset stack has been designed to optimise:
Performance, incl high data rates, and low latency
Footprint: lowest memory use consistent with performance
Flexibility: rapid implementation with port to alternate base-band, RF chipsets and RTOS without main code changes; source code option
Debug, validation and field trials process: comprehensive graphical tools

All code is written in ANSI C and has been ported to 7 chipsets to date.

Sub-layers are mostly implemented as individual tasks (save for, e.g. RLC/MAC) communicatingthrough message queues. A description of the standard L1C, L2 & L3 stack is provided.
---
View GSM GPRS EDGE Protocol Stack SW IP full description to...
see the entire GSM GPRS EDGE Protocol Stack SW IP datasheet
get in contact with GSM GPRS EDGE Protocol Stack SW IP Supplier
Block Diagram of the GSM GPRS EDGE Protocol Stack SW IP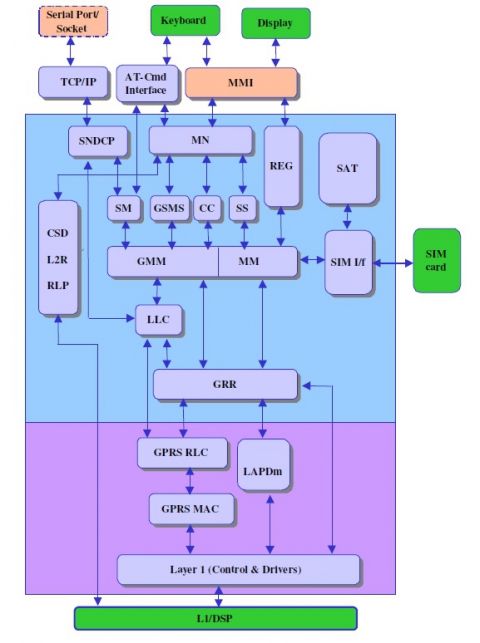 GSM GPRS EDGE Protocol Stack SW IP IP