You are here:
H.264 Video Over IP – HD Decoder Subsystem
This Video Over IP Subsystem integrates H.264 Decompression, Transport Stream and RTP/UDP/IP de-capsulation to enable the rapid development of complete video streaming products. Hardware reference designs and customization services complete the solution.

The subsystem uses the Low-Latency AVC/H.264 Baseline Profile Decoder Core and the RTP and UDPIP, hardware stacks available from CAST. Flexible interfaces allow easy integration of video, memory, and network controllers, and AXI4-Lite slave interfaces allow a host processor to access all control and status registers. An optional custom logic module allows standalone, processor-free operation and provides access to control and status registers via UDP packets. Video and stream data are transferred among the subsystem's modules using AXI-Stream, making removing or adding modules straightforward.

The subsystem can decode constraint baseline streams, encapsulated in RTP or plain UDP and features, sub-frame latency (no frame buffers are implemented).
Features
Ultra-Low Latency H.264 Video Decompression

Constraint Baseline Profile

RTP and UDPIP Decapsulation

Sub-frame latency capable

Host interface via AXi4-Lite or processor-free UDP-controlled operation

AXI4-ST bus for Video & Stream data

Supports HD – 720p30/60 and Full-HD – 1080p30

Customization Options

Integration with Video-Outn Controllers (e.g., DVI, HDMI, MIPI-CSI, or SDI)

Integration with IP-based MAC controllers (e.g., Ethernet or 802.11 WiFi)

Reference FPGA Designs

Drive display via HDMI, on Xilinx or Altera boards

Can work with CAST's H.264 Encoder Subsystem Reference Designs
Applications
The H264OIP-HDD Subsystem is suitable for broadcasting, surveillance, industrial, defense, and medical live-streaming applications. The software-free platform consumes significantly less energy than software based solutions, making it ideal as a decompression coprocessor in battery-operated devices with video streaming capabilities.
Block Diagram of the H.264 Video Over IP – HD Decoder Subsystem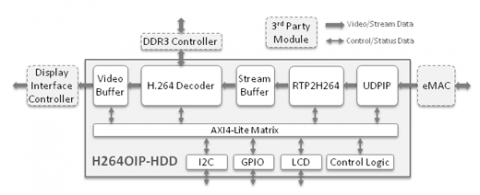 ---
View H.264 Video Over IP – HD Decoder Subsystem full description to...
see the entire H.264 Video Over IP – HD Decoder Subsystem datasheet
get in contact with H.264 Video Over IP – HD Decoder Subsystem Supplier
H.264 Video Over IP – HD Decoder Subsystem IP