You are here:
HaLow 802.11ah Transceiver for IoT
PCS HaLow 802.11ah Transceiver compliant to the IEEE 802.11ah low power, long range WiFi standard. Suitable for IoT, M2M, and V2V (Vehicle to Vehicle) applications requiring long battery life and long range reliaibilty. The transceiver operates in the Sub GHz range an is implemented in standard CMOS. It is designed as block level GDS IP and is easily integrated into and SoC/ASIC.
Features
Integrated single-ended directed Rx with noise less than 3dB

Capable of processing signals form -112dBm to -10dBm

Integrated DC offset correction & I/Q calibration scheme

Highle linear architecture for

Minimal latency of 1us in the receiver

Max opput transmite power of -10dBm

Integrated 20bit SD frational- PLL with 20Hz step size

Integrate rms phase noise of 0.5 degrees

Integrated crystal oscillator

Total Rx current of 18.3mA and Tx current of 22mA at max power
Benefits
Will extend battery life

Reduces the total power foot print of the SoC/ASIC

Completely tested and complaint to IEEE 802.11ah

Ready for integration on an SoC/ASIC

Interfaces easily to FPGA for prototyping/testing
Deliverables
GDS

User/Integration Guide

Integration Support

Systems
Applications
IoT, IoE, M3M, V2V, V2I

Any appllcation where distance and reliability are system requirement

Any application wihere low power or extended battery life is a requirement
Block Diagram of the HaLow 802.11ah Transceiver for IoT IP Core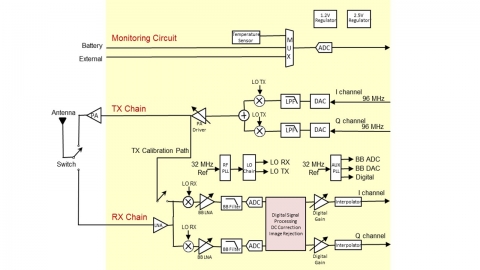 ---
View HaLow 802.11ah Transceiver for IoT full description to...
see the entire HaLow 802.11ah Transceiver for IoT datasheet
get in contact with HaLow 802.11ah Transceiver for IoT Supplier