You are here:
HDMI ver1.4 Receiver IP
HDMI receiver Link IP core which is fully compliant with HDMI 1.4a specification.
This offers a simple implementation for system on chip (SOC) for consumer electronics like HD-TV, AV receiver. Its performs most efficiently with HMDI receiver PHY IP core. This HDMI core functions can be customized based on requirements.
Features
HDMI version 1.4a, HDCP revision 1.3 and DVI version 1.0 compliant receiver

Supports DTV from 480i to 1080i/p HD resolution, and PC from VGA to UXGA

Supports 3D video format specified in HDMI 1.4a specification

Programmable 2-way color space converter

Compliant with EIA/CEA-861D

Deep color supported up to 16bit per pixel.

xvYCC Enhanced Colorimetry

All packet reception including Gamut Metadata Packet

Supports RGB, YCbCr digital video output format including ITU.656

24/30/36/48bit RGB/YCbCr 4:4:4

16/20/24bit YCbCr 4:2:2

8/10/12bit YCbCr 4:2:2 (ITU.601 and 656)

48 bit mode is not supported in 1080p

Supports standard SPDIF output for stereo or compressed audio up to 192KHz

Support PCM, Dolby digital, DTS digital audio output through 4bits I2S up to 8 channel

IEC60958 or IEC61937 compatible

1bit audio format (Super Audio CD) output

High-bitrate compressed audio formats output

Slave I2C interface for DDC connection

Configuration registers programmable via synchronized parallel interface

Interface to external HDCP key storage
Deliverables
Configurable RTL Code

HDL based test bench and behavioral models

Test cases

Protocol checkers, bus watchers and performance monitors

Configurable synthesis shell

Documentation

Design Guide

Verification Guide

Synthesis Guide
Block Diagram of the HDMI ver1.4 Receiver IP IP Core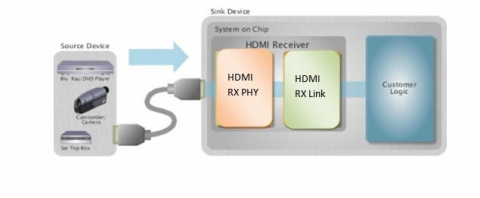 ---
View HDMI ver1.4 Receiver IP full description to...
see the entire HDMI ver1.4 Receiver IP datasheet
get in contact with HDMI ver1.4 Receiver IP Supplier