You are here:
HDMI ver1.4 Receiver IP
HDMI receiver PHY (Physical layer) is a single-port IP core which is fully compliant with HDMI 1.4 specification. This HDMI RX PHY supports from 25MHz to 225MHz TMDS clock, and offers a simple implementation for system LSI for consumer electronics like HDTV. The HDMI receiver PHY performs most efficiently with HMDI receiver link IP core.

It is Silicon Proven in many Fab/Nodes including: 130/90/65/55/45/40nm.
Features
HDMI version 1.4 compliant receiver

Supports DTV from 480i to 1080i/p HD resolution

Supports 24bit, 30bit and 36bit color depth per pixel

Integrated cable terminator

Adaptive equalizer for cable

Adjustable analog characteristics

PLL band width

VCO gain

BGR voltage

Cable terminator resistance value

DLL digital filter characteristics

Integrated Audio PLL

3.3V/2.5V/1.0V power supply

GLOBAL FOUNDRIES 65nm (C65G) process
Deliverables
Datasheet

Integration guideline

GDSII or Phantom GDSII

Layer map table

CDL netlist for LVS

LEF

Verilog behavior model

Liberty timing model

DRC/LVS/ERC results
Block Diagram of the HDMI ver1.4 Receiver IP IP Core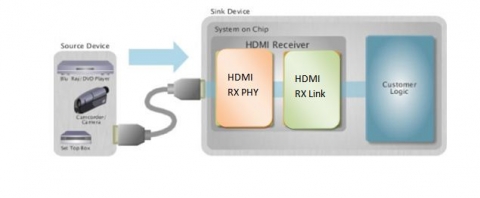 ---
View HDMI ver1.4 Receiver IP full description to...
see the entire HDMI ver1.4 Receiver IP datasheet
get in contact with HDMI ver1.4 Receiver IP Supplier