You are here:
High-efficiency Low-power Processor
System-on-chip designs are proliferating to help OEMs automate functions such as smart lights, heating and cooling, wireless door locks, smoke, fire, and intrusion detection and more. SoC designers building chips for these applications need a feature rich 32-bit computing platform that provides a roadmap to enhanced functionality over time. The AndesCore™ N8 with its 3-stage pipeline design boosts the execution efficiency of today's computation algorithms, reduces memory usage, lowers customers' silicon cost, while providing a long-term roadmap for customers needing an upgrade path from 8-bit cores.

Motion, magnetic, pressure, light and temperature sensors are at the heart of IoT devices for home automation. Embedded processors to control these sensors and communicate their readings to the web must be power efficient enough to run on batteries sometimes last more than 10 years, for example the intrusion sensors on door and windows. The N8 achieves 1.82 DMIPS/MHz, which are far more computing power and energy conservation than its peers.

Features
Excellent total performance deliverable

Vectored interrupt for low latency interrupt processing

Small footprint with low gate count and high code density

Speed-up and power reduction for Flash accesses by FlashFetch technology
Benefits
Performance

16/32bit mixable instruction format for compacting code density

Branch predication to speed up loop control

Low-latency vectored interrupt for real-time performance

FlashFetch technology to accelerate internal parallel and/or external

SPI flash memory

Advanced CoDense™ technology to reduce program code size

Flexibility

All-C Embedded Programming

Stack protection hardware to help determining stack size needed,

and detect runtime overflow error

Support boot-up from instruction Local Memory

Processor state bus to simplify SoC design and debugging

Power Management

Low power modes initiated by SW or SoC

PowerBrake technology to digitally reduce peak power consumption
Applications
Internet of Things (IOT)

Sensor hub

Smart thermostat controller

Home security/automation controller

Smart Gas/Water/Electronic meter

Personal health device

Wearable device

PC/Notebook peripheral
Block Diagram of the High-efficiency Low-power Processor IP Core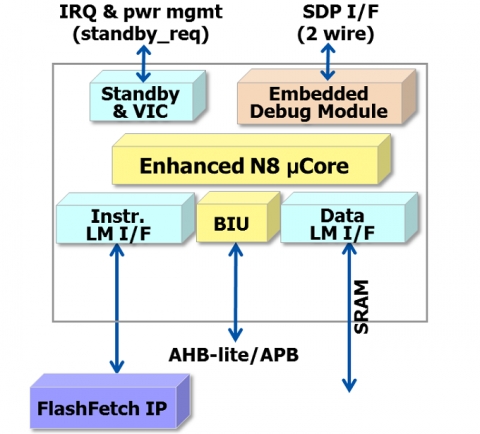 ---
View High-efficiency Low-power Processor full description to...
see the entire High-efficiency Low-power Processor datasheet
get in contact with High-efficiency Low-power Processor Supplier