You are here:
High Performance 8bit/12bit JPEG CODEC
ND1000 JPEG CODEC is a high-performance and low-area cost JPEG encoder/decoder, which performs interconverting between JPEG standard compatible stream and image raster data as encoder or decoder. The standard file format(JEIF etc.) formats are supported.
ND1000 can be integrated to SOC as hardware JPEG encode/decode accerlerator and also can be used as co-processor in various image processing systems to realize low-bandwidth and high-performance image processing.

---
View High Performance 8bit/12bit JPEG CODEC full description to...
see the entire High Performance 8bit/12bit JPEG CODEC datasheet
get in contact with High Performance 8bit/12bit JPEG CODEC Supplier
Block Diagram of the High Performance 8bit/12bit JPEG CODEC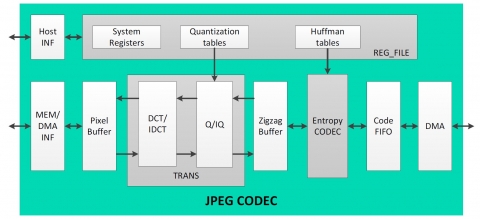 JPEG CODEC encoder decoder baseline 8bit 12bit IP