You are here:
High-performance Processor for Real-time and Linux Applications
The Andes Technology N13 processor is a high performance CPU core architected for computation intensive applications running either on operating systems or as bare metal. The N13 is designed to serve the demanding requirements of application processors in SoCs for consumer electronics such as HDTVs, home media servers, cable and over-the-top set top boxes, as well as SoCs for the switches and routers delivering content to these devices.

Complete with Memory Management Unit, L1/L2 cache, Local Memory, DMA, FPU, Vectored Interrupt, and Branch Prediction, the N13 easily runs complex operating system such as Linux. And with an 8-stage pipeline and a clock rate over 1 GHz, the core delivers impressive performance of 2.05 DMIPS/MHz to serve the most demanding computing environments. Furthermore, the N13 AndesCore™ supports the latest AndeStar™ V3 architecture, which is accompanied with toolchain, IDE, RTOS, Linux, middleware, and platform development IP. The N13's strength plus its ecosystem provide designers with the competitive edge for success in their embedded system solutions.

Features
Optimized pipeline for best performance with over 1 GHz

Dynamic branch prediction accelerates loop execution

Unified Local Memory (ULM) for simultaneous accesses

64-bit AXI bus for high bandwidth and low latency

MMU and MPU for Linux and RTOS

Support for FPU coprocessor and L2 cache
Benefits
Performance

Highly compact program size through AndeStar™ V3 ISA

Optional saturation instructions for efficient voice applications

Single-cycle latency for most of 32-bit operations

Extensive branch predictions to speed up branch control

Efficient atomic access synchronization without locking system bus

Low latency vectored interrupt improving real-time performance

Single-cycle local memory interface with adjustable wait cycles

Optional 2D Local Memory DMA for efficient data transfers

Optional 64-bit datapath between bus and caches with power reduction architecture

Optional HW page table walker for MMU

Processor state bus to simplify SoC design and debugging

Flexibility

Easy arrangement of preemptive interrupts

Memory-mapped IO space

All-C Embedded Programming

Stack protection hardware to help determining stack size needed, and detect runtime overflow error

PC-relative jumps for position independent code

JTAG-based debug support

Performance monitors

Support for bi-endian data accesses

Support boot-up from AXI if both AHB and AXI exists

Optional unified local memory interface for flexible code and data location

Power Management

Highly clock gating and logic gating

Standby instructions to help power management

N:1 core vs bus clock ratios

PowerBrake technology to reduce peak power consumption
Applications
Networking device

WiFi device

GPON

Surveillance system

ADAS

Storage device

Digital TV/Set top box

Media center
Block Diagram of the High-performance Processor for Real-time and Linux Applications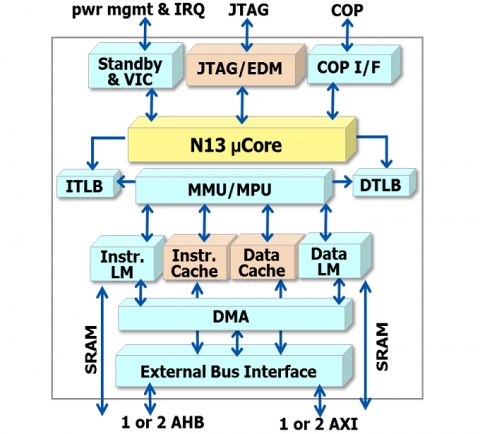 ---
View High-performance Processor for Real-time and Linux Applications full description to...
see the entire High-performance Processor for Real-time and Linux Applications datasheet
get in contact with High-performance Processor for Real-time and Linux Applications Supplier