You are here:
High speed NoC (Network On-Chip) Interconnect IP
OPENEDGES is the only total memory system IP company providing both memory controller and on-chip interconnect. OIC is the ORBIT High Speed On-chip Interconnect, which delivers exceptional performance and SoC design flexibility based on automated end-to-end interconnect generation flow. Together with ORBIT Memory Controller (OMC), OIC delivers significant synergy in terms of maximum performance, reduced SoC design efforts and a lot easier post-silicon debugging/tuning.

Today's SoC gets more and more complex and performance demanding with multi-core & multiple DRAM channels. Conventional crossbar-based bus design fails to meet these requirements, significantly increasing overall SoC design efforts. OIC is the next generation high speed interconnect IP, which features high performance, small area & ultra low power consumption through proprietary HyperPath technology and proprietary Asynchronous Bridge technology. With these proven & unique technology, OIC enables customers to reduce SoC's backbone area (& global wires) by almost half while satisfying SoC's high bandwidth and low latency demand. OIC's automated end-to-end interconnect generation flow provides SoC design flexibility, significantly reducing SoC design efforts.




Features
High Performance

Proprietary HyperPath technology enabling 2x datapath speed over conventional bus design

Proprietary Asynchronous Bridge design enabling low latency and high speed implementation

Low Power Consumption

Extremely low power consumption – 10's to 100's uW for entire backbone at idle

Smaller Area

Lightweight NoC enabling smaller interconnect channel area – 1/2x of typical AMBA-based interconnect area

Special Features

Centralized clock & power management support

ECC (SECDED) support for error resilience

End-to-end at-speed BIST

Performance (e.g. bandwidth, latency) monitors
Benefits
High Flexibility

Flexibility for easy SoC floorplan & topology design

Automated end-to-end interconnect generation with ORBITTM Design Toolkit

Physical-design friendliness

Fast & Easy SoC design of high speed & long distance interconnect

Easy power & clock management

Integrated local CMU/PMU abstracting out complex internal handshake (OIC+OMC) for power & clock control

Externally, AMBA Low Power Interface (P channel)

Easy post silicon performance tuning

Dynamic priority control in OIC & OMC based on observed latency & bandwidth for master IPs (ActiveQoSTM)
Deliverables
IP Core

Management SW

Simulation environment

Detailed Document
Applications
Automotive,

Application Processors,

Digital Baseband Modems,

Set-Top-Box,

Digital TV,

OTT,

Surveillance,

IoT,

Enterprise SSD Controllers
Block Diagram of the High speed NoC (Network On-Chip) Interconnect IP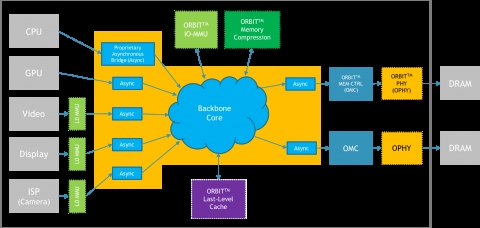 ---
View High speed NoC (Network On-Chip) Interconnect IP full description to...
see the entire High speed NoC (Network On-Chip) Interconnect IP datasheet
get in contact with High speed NoC (Network On-Chip) Interconnect IP Supplier