You are here:
I2C Bus Master Controller Core
Implements an Inter-Integrated Circuit (I2C) Bus master controller that meets the Phillips I2C, version 4.0 specification for single master I2C buses.

The I2C-M allows dynamic control of the serial clock frequency, and the I2C bus speed is only limited by the external bus driver capabilities and the frequency used to clock the core. It supports a 7- or 10-bit slave address and allows the Acknowledge cycle to be controlled by either the slave or the master. This enables operation in all bus speed modes provisioned by version 4.0 of the standard, including the unidirectional Ultra Fast Speed. Furthermore, the core is suitable for implementing the master node for I2C-based protocols, such as SMBUS, PMBUS and VESA Display Data Channel (DDC).

Under its default configuration, the I2C-M provides access to its 8-bit-wide status and control registers via an APB-slave port. Alternatively, the core can be equipped with an AHB-slave, Wishbone-slave, or generic microcontroller interface.

Controlled by a compact and comprehensive set of commands and accompanied by a low-level C-driver, the I2C-M core enables easy and rapid development of over-I2C, or I2C-like protocols in user applications. The configurable size FIFOs for read-data and commands and a rich set of interrupts help reduce host processor overhead and interaction.

The I2C-M is production-proven in ASIC and FPGA technologies.
Features
I2C Master Transmit and Master Receive Modes, suitable for uni-master buses

I2C Bus Speeds

Standard-mode (Sm): up to 100 Kbps

Fast-mode (Fm): up to 400 Kbps

Fast-mode Plus (Fm+): up to 1Mbps

High-Speed mode (Hs): up to 3.4 Mbps

Unidirectional Ultra Fast Speed (UFm): up to 5 Mbps

7- and 10-bit slave address

Acknowledge/Not Acknowledge cycle by slave (required for all modes but UFm) or master (required by UFm)

Clock Stretching Support

Suitable for implementing I2C variants such as SMBUS and PMBUS

Easy to Use

Control and monitor via 8-bit-wide control status registers

Compact set of commands control I2C Transactions

Rich set of maskable interrupts

Command and read FIFOs for lower host overhead

Programmable clock divider derives serial clock from bus clock or externally provided clock

Low-Level Driver in C

Configurable

Host Interface options include APB (default), AHB, Wishbone, and 8051-SFR

Adjustable Receive Data and Command FIFO sizes
Deliverables
The core is available in Verilog RTL or as targeted FPGA netlist, and its deliverables include everything required for a successful implementation, including an extensive testbench, comprehensive documentation and a low-level device driver.
Applications
The I2C-M enables microcontrollers to interface I2C peripherals such as EEPROM, A/D and D/A Converters, sensors, smart cards, and LCD and LED drivers.
Block Diagram of the I2C Bus Master Controller Core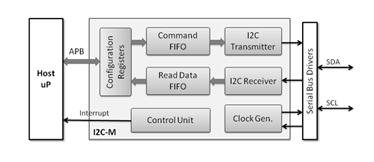 ---
View I2C Bus Master Controller Core full description to...
see the entire I2C Bus Master Controller Core datasheet
get in contact with I2C Bus Master Controller Core Supplier