You are here:
I2C & SMBus Controller
The I2C & SMBus Controller Core implements a serial interface controller for the Inter-Integrated Circuit (I2C) bus and the System Management Bus (SMBus).

The I2C & SMBus Controller Core can be programmed to operate either as a bus master or a slave, and it is easy to program and integrate. An arbitration mechanism allows operation in a multiple master bus and the SMBus provisioned clock synchronization mechanism allows fast-master/slow-slave communication. Furthermore, the core detects timeout and errors to prevent bus deadlocks, and can filter out glitches on the serial line. The control, status, and data registers of the I2C-SMBUS core are accessible via an AMBA APB or a generic memory mapped interface.

The I2C & SMBus Controller Core is a microcode-free design developed for reuse in ASIC and FPGA implementations. The design uses rising-edge-triggered flip-flops only with the reset type (i.e. asynchronous and/or synchronous) being configurable at synthesis time. Furthermore, the core does not use tri-states; therefore scan insertion is straightforward.
Features
Standards Compliance

 Phillips I2C

 SMBus Version 2.0 & 3.0

 PMBus Version 1.3 or earlier

Operation Modes

Master Transmitter Mode

Master Receiver Mode

Slave Receiver Mode

Slave Transmitter Mode

Functionality

Seven-bit Addressing

Byte-wide Transfers

Bus Arbitration

Clock signal (SCL) generation (in master mode) and data synchronization

START/STOP Timing detection and generation

Timeout/Bus error detection

Clock-Low Extension to allow fast-master slow-slave communication

Configurable glitches filter for clock and data serial lines

Bus status reporting

Interfaces

I2C–SMBUS

A pair of unidirectional signals for SCL and SDA

Control for the serial line buffers/drivers

Host

32-bit APB or 8-bit generic (8051-like) for register access

Interrupt line

Clocks

Core operates on the host-interface clock

Reference clock signals used to generate the serial clock (SCL)
Deliverables
RTL source code or targeted FPGA netlist

Testbench

Sample simulation and synthesis script

Extensive documentation

Sample SMBus software driver
Applications
The I2C-SMBUS can manage the communication of a host processor with peripherals such as sensors, smart battery subsystems, analog front ends, analog-to-digital and digital to analog converters, and display controllers.
Block Diagram of the I2C & SMBus Controller IP Core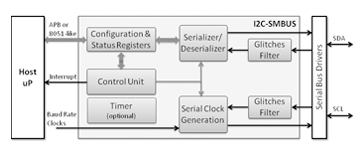 ---
View I2C & SMBus Controller full description to...
see the entire I2C & SMBus Controller datasheet
get in contact with I2C & SMBus Controller Supplier