You are here:
I3C Master Controller
The MIPI I3C interface is an evolutionary standard that improves upon the features of I2C, while maintaining backward compatibility. This standard offers a flexible multi-drop interface between the host processor and peripheral sensors to support the growing usage of sensors in embedded systems.

The main purpose of MIPI I3C is threefold:

To standardize sensor communication
Reduce the number of physical pins used in sensor system integration and
Support low-power, high-speed and other critical features that are currently covered by I2C and SPI.
Features
Compliant with MIPI I3C Specification V1.0

Compliant with MIPI I3C HCI Specification V1.0

Supports up to 12.5 MHz operation using Push-Pull

Open-Drain and Push-pull type transactions (as required)

Supports legacy I2C devices

Dynamic Addressing while supporting Static Addressing for Legacy I2C devices

Legacy I2C Messaging

I2C-like Single Data Rate Messaging (SDR)

Optional High Data Rate Messaging Modes (HDR)

Support for Multi-master (transferring the ownership of the bus to a Secondary Master if Present)

Reception of In-band Interrupt Support from the I3C Slave devices

Reception of Hot-Join from newly added I3C Slave devices

Synchronous Timing Support and Asynchronous Time Stamping.

APB/AHB Target Interface for Configuring/Controlling the IP with Interrupt output

Small 16-byte (Configurable) FIFO for transferring data between Master and the Slave devices

Independent Clocks for AHB and the I3C Interface
Deliverables
RMM compliant synthesizable RTL design in Verilog

Easy-to-use test environment

Synthesis scripts

Technical documents

Validated with 3rd Party UVM-based Slave VIP and available as an additional option
Block Diagram of the I3C Master Controller IP Core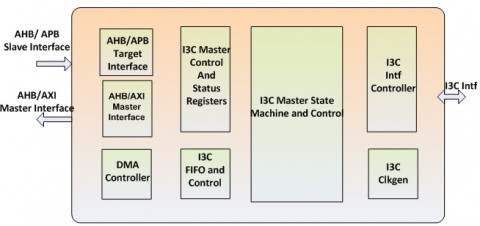 ---
View I3C Master Controller full description to...
see the entire I3C Master Controller datasheet
get in contact with I3C Master Controller Supplier