You are here:
I3C Sensor Subsystem (700-02/05/16)
The I3C Sensor Subsystem is an AMBA® based system that is useful in building low power SOCs needing sensor interfaces through I3C. The subsystem includes the I3C Dual Role Master controller which meets the MIPI I3C standard.

The I3C Dual-Role Master controller is a highly configurable I3C master that can be used to provide I3C connectivity to any device. It contains master capabilities as well as the same features as the I3C Advanced Slave. It can be configured in a number of different ways to allow the core to use the minimum amount of logic to reduce both area (cost) and power.

The subsystem also includes a flexible Power Management Unit that controls the power sequence of the CPU as well as the APB peripherals.

The I3C Sensor Subsystem includes a standard set of peripherals and cores that supports RTOS and software kernels. The package includes software for boot code, interrupt handlers and driver code.

The I3C Sensor Subsystem is soft IP that can be used in all the popular semiconductor technology nodes.
Features
Highly configurable core that allows customer to minimize unneeded logic

Compliant with the latest version of the MIPI I3C specification

Low Power

RTOS/Kernel Support

I3C Dual Role Master

Power Management Unit

8,16,32 bit Internal SRAM Controller

Standard Peripherals

Watchdog Timer, Timers (2), GPIO

Configurable

I2C Master, SPI Master / Slave, 16550 UART

Ideal for ARM Cortex-M0, Coldfire V1, Andes E8, BA22, Risc-V
Deliverables
Verilog RTL source code

Test bench with test suites

Documentation including User's Guide and Integration Guide

Technology-independent synthesis constraints
Applications
IoT Edge Devices

Industrial Sensors

Small Controllers

Mixed Signal Digital - MEMS

Smart Sensors

Smart Lighting

Temperature, Pressure, Acceleration Monitors

Personal Health Monitors

I3C Connected Devices
Block Diagram of the I3C Sensor Subsystem (700-02/05/16) IP Core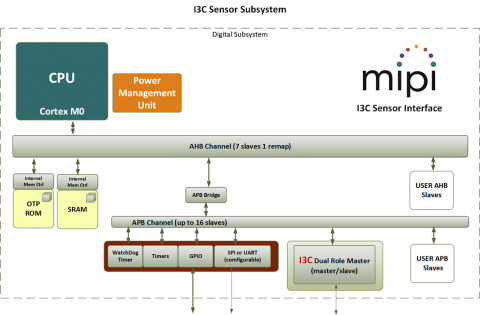 ---
View I3C Sensor Subsystem (700-02/05/16) full description to...
see the entire I3C Sensor Subsystem (700-02/05/16) datasheet
get in contact with I3C Sensor Subsystem (700-02/05/16) Supplier