You are here:
I3C Slave
IQonIC Works I3C Slave Core provides a slave interface for the following protocols:
- I2C standard mode (100kbps)
- I2C fast mode (Fm, 400kbps) and fast-mode plus (Fm+, 1Mbps)
- I2C high-speed mode (3.4Mbps)
- I3C single data rate (SDR, up to 12.5Mbps)
Features
Protocol engine implements the following I3C CCC commands: ENEC, DISEC, ENTAS0, RSTDAA, SETDAA, SETMWL, SETMRL, GETMWL, GETMRL, GETPID, GETBCR, GETDCR, GETSTATUS, GETMXDS, XTIME

XTIME ST, DT, TPH, and TU subcommands for timing control of a synchronous system

Dynamic address assignment, plus I2C legacy addressing

In-band Interrupts with configurable payload size

I3C error checking and recovery

Slave interface signals for private messages and CCC command data
Benefits
IQonIC Works I3C Slave Core implements I3C protocol sequencing and command processing. It provides a simple interface for a device to transfer data over I3C. Legacy I2C protocols are supported transparently.
Deliverables
The following list of deliverables are included:

Datasheet

Synthesizable SystemVerilog RTL

Module Test Suite

Integration Guide
Applications
The MIPI I3C interface is an evolutionary standard that improves upon the features of I²C, while maintaining backward compatibility and is intended for use as a single interface that can be used for any sensor.

This standard offers a flexible multi-drop interface between the host processor and peripheral sensors to support the growing usage of sensors in embedded systems. The main purpose of MIPI I3C is threefold:

to standardize sensor communication,

reduce the number of physical pins used in sensor system integration and

support low-power, high-speed and other critical features that are currently covered by I²C and SPI.
Block Diagram of the I3C Slave IP Core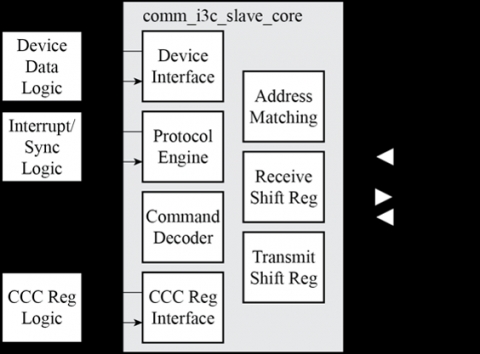 ---
View I3C Slave full description to...
see the entire I3C Slave datasheet
get in contact with I3C Slave Supplier