You are here:
IEEE 802.15.4- 2011 - MAC and PHY
LTIMindtree IEEE 802.15.4 MAC and PHY semiconductor Intellectual Property (IP) is based on IEEE 802.15.4 specification. This standard defines the Physical layer (PHY) and Medium Access Control (MAC) layer specifications for low power and low data rate wireless connectivity.

Our IP is a software and hardware co-design. The time critical functions are implemented in hardware and logical functions are implemented in firmware. The interface between the hardware and firmware is through AHB, APB, EBI, and SPI bus.

Software Stacks such as Zigbee, RF4CE and Thread can be ported on top of our 802.15.4 hardware. Our IP consists of all essential components needed for a complete 802.15.4 system. For RF, Mindtree has partnered with several leading RF IP suppliers across the globe.

LTIMindtree's 802.15.4 IP has been licensed to top semiconductor companies and is in production. Today companies can choose to license our 802.15.4 IP standalone or can choose too license our IEEE 802.15.4 along with our BlueLitE Bluetooth low energy IP to make a combo chip.


---
View IEEE 802.15.4- 2011 - MAC and PHY full description to...
see the entire IEEE 802.15.4- 2011 - MAC and PHY datasheet
get in contact with IEEE 802.15.4- 2011 - MAC and PHY Supplier
Block Diagram of the IEEE 802.15.4- 2011 - MAC and PHY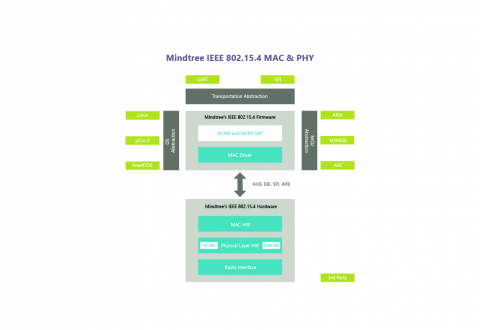 Video Demo of the IEEE 802.15.4- 2011 - MAC and PHY
Demo of Mindtree's IEEE 802.15.4