You are here:
IEEE 802.15.4 (ZigBee) CCM* AES Cores
IEEE 802.15.4 is the low-power wireless standard that is used by ZigBee Alliance as a base of its ZigBee™ specification. The security design of IEEE 802.15.4 uses the CCM* mode of the AES cipher for encryption and message authentication. The CCMZ cores are tuned for low-power IEEE 802.15.4 applications.

CCMZ1 core is slightly larger and uses flow-trough design with key and nonce in the data stream; CCMZ2 core has dedicated inputs for key and nonce.

Cores contain the base AES core AES1 and are available for immediate licensing.

The design is fully synchronous and available in both source and netlist form.
Features
Small size: Completely self-contained: does not require external memory

Supports encryption and decryption,

Includes key expansion (scheduling)

Support for CCM* mode of the AES cipher

Flow-through design with frame header parsing

Test bench provided
Deliverables
Synthesizable Verilog RTL source code

Testbench (self-checking)

Vectors for testbenches

Expected results

User Documentation
Applications
Block Diagram of the IEEE 802.15.4 (ZigBee) CCM* AES Cores IP Core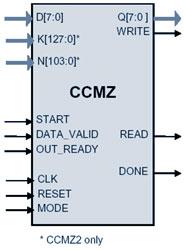 ---
View IEEE 802.15.4 (ZigBee) CCM* AES Cores full description to...
see the entire IEEE 802.15.4 (ZigBee) CCM* AES Cores datasheet
get in contact with IEEE 802.15.4 (ZigBee) CCM* AES Cores Supplier