You are here:
FIPS 140-3 compliant True Random Number Generator (TRNG)
As part of INSIDE Secure's award-winning silicon Intellectual Property (IP) product portfolio, the EIP-76 TRNG is an advanced hardware based, technology independent True Random Number Generator. Security is now a basic requirement for all devices. To support that requirement, semiconductor designers must build strong cryptographic capabilities into their chips, capabilities that begin with a True Random Number Generator (TRNG). A TRNG is used for the generation of keys, initialization vectors, cookies, and nonces; it is an essential building block for all robust security solutions. Also, configurations are available to address safety standards for automotive applications. The TRNG-IP-76 True Random Number Generator provides semiconductor designers with an all-digital silicon-proven solution that has been thoroughly field tested and deployed in dozens of devices developed by the industry's leading semiconductor companies.
Features
Patented test circuits on the oscillators to detect lockingto periodic signals.

Repeating output data detection on NRBG and DRBG (compliant with [FIPS 140-2]).

Hardware implemented 'Repetition Count' and 'Adaptive Proportion' tests on the Noise Source (compliant with [SP 800-90B]).

Continuous tests on the Noise Source (compliant with [AIS-31]): 'monobit test', 'poker test', 'runs test', 'longruns test' and 'Noise Source failure'.

Secure random data buffer wipe-after-read and zeroize functions (compliant with [FIPS 140-2]).

Secure reading mode where data is only available on request, for a (configurable) limited time.

Automatic shutdown on fatal errors.

Automatic de-tuning of FROs after lock detection.

Various on-line and off-line integrity and known answer tests on the Conditioning Function, DRBG andself-test circuits.

Configurations available with countermeasures against Fault Injection Attacks.
Benefits
True Random Number Generator

Silicon-proven implementation

Fast and easy to integrate into SoCs

Flexible layered design

Complete range of configurations

World-class technical support
Deliverables
"Documentation

Hardware Reference and Programmer Manual

Integration Manual

Noise & Entropy document

Synthesizable Verilog RTL source code

Self-checking RTL test bench, including test vectors and expected result vectors

Simulation scripts

Many different configurations possible:

Conditioning Function support

Fault Injection protected support

(optional) Deterministic Random Bit Generator

(optional) DMA handshake

Gate count ranging from: 10.9k + 11.5k to 56k + 11.5k gates

Up to 1 GHz

For more information about this product or the all the different configurations, please contact Inside Secure: https://www.insidesecure.com/Contact
Applications
Security

Cryptography

Key generation

Random number generation
Block Diagram of the FIPS 140-3 compliant True Random Number Generator (TRNG)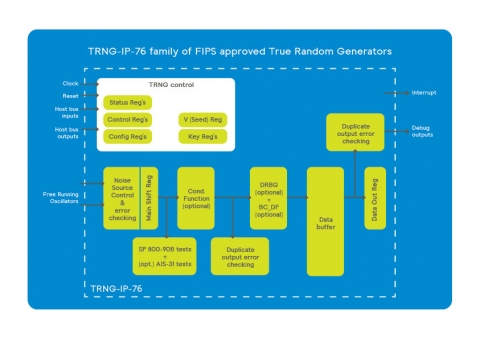 ---
View INSIDE Secure True Random Number Generator Engine full description to...
see the entire INSIDE Secure True Random Number Generator Engine datasheet
get in contact with INSIDE Secure True Random Number Generator Engine Supplier