You are here:
Interlaken Communication Controller
The Interlaken IP core is an efficient implementation of Interlaken Protocol version 1.1. Interlaken IP core is designed for flexibility, robustness, scalability and is available in 64(10-25 Gb/s), 128(20-25Gb/s), 256(40+ Gb/s) bit datapath variants.
Features
Up to 8 lanes and each lane operating at data rates up to 6.25 Gbs

Link resiliency with support for operation with fewer lanes

Support for up to 256 channels

Implements out-of-band and in-band flow control

Optional full-packet mode support

Insertion of BCW/ICW and packet delineation using BCW/ICW

Additional ICW insertion to meet BurstShort

Implements rate-matching logic with token buckets

Efficient scheduling of packets from different channels

64b/67b encoding/decoding

Set/reset scrambler

Metaframing/deframing

Simple system-side interface

Optional gear box to work with SerDes with 32 bit interfaces

Lane-to-lane deskew logic that can handle up to 107 UI skew

Extensive statistics

Comprehensive error reporting/handling

Per-lane test patterns
Benefits
Low Gate Count

Flexible Design

Designed for Reuse & Testability

Proven Design Methodology

Customization Options
Deliverables
Functional Specification

RTL Database

Functional Verification Environment

Synthesis Scripts

Timing Report

User Guide
Block Diagram of the Interlaken Communication Controller IP Core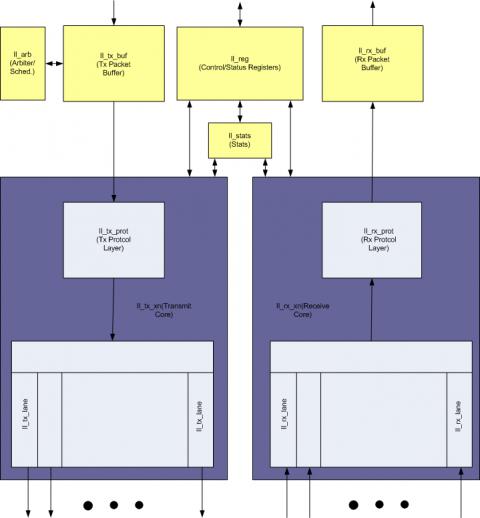 ---
View Interlaken Communication Controller full description to...
see the entire Interlaken Communication Controller datasheet
get in contact with Interlaken Communication Controller Supplier