You are here:
Interlaken-PHY
Interlaken is a royalty-free interconnect protocol that was developed by Cisco Systems and Cortina Systems in 2006. The full Interlaken protocol (described in the Interlaken Protocol Specification, v1.2) was designed to support chip-to-chip packet transfers in high-bandwidth networking equipment. A full Interlaken solution consists of the Interlaken Protocol Layer which runs on top of the Interlaken Framing Layer. The full Interlaken protocol is often viewed as too complex for designers who are looking for a lightweight, low-overhead way to connect multiple FPGAs, systems, or sensors. For these cases, the Interlaken Framing Layer gives us everything we need for an extremely scalable, high-bandwidth, low-overhead and lightweight FPGA interconnect that supports any FPGA device family all with a common user interface. The Interlaken Framing Layer is combined with the FPGA transceiver to form a complete IP core that we call the Interlaken-PHY IP Core.
Features
Fully compliant with Interlaken Protocol v.12 Framing Layer specification

Any number of physical lanes supported

Channel bonding handled by core

Runs at any rate supported by transceiver

User datapath width of 64-bits per lane

Automatic, self-synchronizing link(s)

Support for Altera and Xilinx FPGAs

64B/67B Data Encoding

Over 95% Bandwidth efficient

Ensures DC balance by bounding baseline wander for high link stability

58-bit Synchronous Scrambler

Guarantees bit transitions

Ensures low EMI characteristics

Allows link to self-synchronize without user intervention

CRC32 generation and verification

Verifies data integrity

Identifies lane(s) with data errors
Benefits
Channel bonding supported for any number of physical lanes

Any serial line rate supported by the FPGA transceiver can be used

Self-synchronizing links and automatic link resynchronization

Per-lane CRC32 for data integrity and diagnostics

Superb DC balancing for maximum link stability

Over 95% bandwidth efficient
Applications
Low overhead, scalable interconnects

Excellent choice for streaming sensor data

High-bandwidth backplanes

High-bandwidth cables

Many users choose to build their own custom protocol on top of this Interlaken-PHY
Block Diagram of the Interlaken-PHY IP Core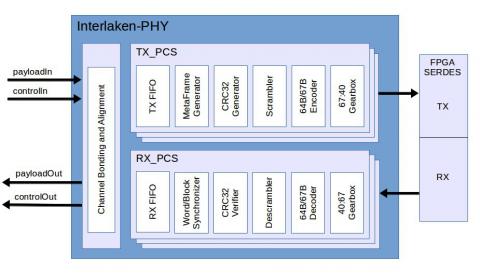 ---
View Interlaken-PHY full description to...
see the entire Interlaken-PHY datasheet
get in contact with Interlaken-PHY Supplier