You are here:
JESD204B IP Core
JEDEC Standard No. 204B (JESD204B) describes a serialized interface between data converters and logic devices. It contains the information necessary to allow designers to implement logic devices which can communicate with other devices (converters) that are compliant with the standard. Lattice's JESD204B 3G/5G IP Core offerings support both an Rx core (ADC to FPGA direction) and/or a Tx core (FPGA to DAC direction). The Rx and Tx cores can each be generated separately and with different parameters.
Features
Subsets of JEDEC Standard No. 204B(JESD204B.01) July 2011

Rx core performs lane alignment based on Subclass 0 and Subclass 1

Rx core performs frame alignment detection / monitoring and octet reconstruction

Rx core performs user-enabled descrambling

Rx core recovers link configuration parameters during initial lane synchronization and compares them to user selected parameters to generate a configuration mismatch error

Tx core performs user-enabled scrambling

Tx core generates initial lane alignment sequence

Tx core performs alignment character generation

Tx core sources link configuration data with user selected parameter values during initial lane synchronization Sequence

16 bit(3G) or 32 bit(5G) fabric interface per channel for low core frequency

One-shot frame/multi-frame boundary flags with one clock ahead of data make users easy to control the transition of the state machines for framer / de-framer
Block Diagram of the JESD204B IP Core IP Core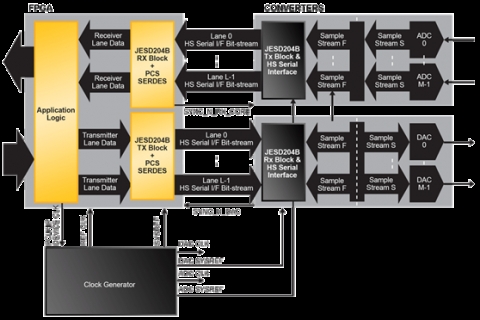 ---
View JESD204B IP Core full description to...
see the entire JESD204B IP Core datasheet
get in contact with JESD204B IP Core Supplier