You are here:
JPEG Codec 4K(YUV422) 96fps@200MHz,
The 12-Bit JPEG IP core is conformed to the JPEG baseline format/JPEG Extended DCT-based process for compressing/decompressing 8bit/12bit still images.
Features
Based on JPEG Extended DCT-based process/Baseline process Standards.

The arithmetic accuracy also satisfies the requirement of compliance testing of JPEG Part2 ISO/IEC10918-2j.

Image Data I/O Format:Block Interleaved Format

Image Size:Any size that can be divided by MCU unit.

Operation mode like processing mode, image size, DRI value etc. are set in internal register via external CPU.

Quantization table:Written from external during compression.

Huffman table:Fixed table is used for compression (SHIKINO original table is used for 12bit JPEG.Standard table is used for 8bit JPEG) and downloaded from compressed data during decompression.

Marker:Automatically generated during compression.Processed marker: SOI, SOF0, SOF1, SOS, DQT, DHT, DRI, RSTm, EOI
Deliverables
RTL Source (Verilog-HDL)

Logic synthesis scripts

Test vectors

Reference C-MODEL

IP specification file

Design specificaions file

C-MODEL manual file
Applications
Digital still cameras

Video Phones

Image scanner

Printers

External board for PC

Surveillance systems

FAX

Image transfer devices

Mobile terminals

Smart phone

Tablet devices

Medical devices
Block Diagram of the JPEG Codec 4K(YUV422) 96fps@200MHz,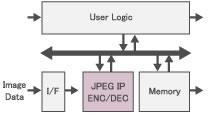 ---
View JPEG Codec 4K(YUV422) 96fps@200MHz, full description to...
see the entire JPEG Codec 4K(YUV422) 96fps@200MHz, datasheet
get in contact with JPEG Codec 4K(YUV422) 96fps@200MHz, Supplier