You are here:
JPEG-LS Lossless Image Encoder
The Lancero JPEG-LS Lossless Image Encoder IP Core is a highly efficient FPGA based implementation of the ITU T.87 lossless image compression standard. JPEG-LS performs better than JPEG-2000 in most lossless use cases but with less resource requirements and no need for external memory. Encoding requires less than one line of latency.
Features
Leading lossless image compression results for 8 to 16 bits image sample depths

Less than one line of encoding latency

Low resource count, no external memory needed. Scales to multiple instances is easy

Pixel and data FIFO input/output or Avalon Streaming interface with back-pressure

Accepts and encodes one pixel per clock cycle

Configurable output data word width

Configurable image sizes up to ultra-high definition and beyond
Deliverables
Encrypted Lancero JPEG-LS IP Core with pixel FIFO interface

Altera Avalon Streaming bus wrapper

Simulation Test Benches

C bitstream identical model with cross validation against RTL

Technical support

Full SystemVerilog RTL source code can be licensed on request
Applications
Medical (DICOM), military, space imaging

Surveillance camera's

High-end film and photo scanners

Satellite and space imaging
Block Diagram of the JPEG-LS Lossless Image Encoder IP Core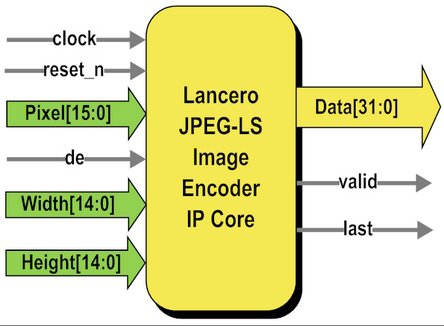 ---
View JPEG-LS Lossless Image Encoder full description to...
see the entire JPEG-LS Lossless Image Encoder datasheet
get in contact with JPEG-LS Lossless Image Encoder Supplier