You are here:
LIN Bus Master/Slave Controller Core
The LIN core is a communication controller that transmits and receives complete LIN frames to perform serial communication according to the LIN Protocol Specification. The LIN controller can be implemented as a master or as a slave and operate on LIN 1.3, 2.0, 2.1 or 2.2 LIN network. It uses a single master/multiple slave concept for message transfer between nodes of the LIN network. The message transfer can be controlled via a micro controller interface and a LIN transceiver is needed for the connection to the LIN bus.

The LIN core is a microcode-free design developed for reuse in ASIC and FPGA im-plementations. The scan-ready design is strictly synchronous with positive-edge clocking and no internal tri-states. The robustly verified core has been production proven multiple times.
Features
Support of LIN specification 2.0, 2.1, and 2.2A

Backwards compatible with LIN specification 1.3

Configurable for support of master or slave functionality

Programmable data rate between 1 Kbit/s and 20 Kbit/s (for master)

Automatic bit rate detection (for slave)

8-byte data buffer

8-bit host controller interface

Wrappers for 32bit busses (e.g. APB) can be made available upon request

Slave can be implemented with or without clock synchronization

Fully synchronous design, available in VHDL or Verilog, completely synthesizable

The LIN Controller synthesizes to approximate 2500 to 3800 gates depending on the configuration

Robustly verified and multiple times production proven IP core
Deliverables
HDL RTL source code (ASICs) or post-synthesis EDIF netlist (FPGAs)

Testbench

Sample driver in C code

Simulation script, vectors, expected results

Synthesis script (ASICs) or place and route script (FPGAs)

Comprehensive user documentation, including detailed specifications and a system integration guide
Applications
The LIN core can be utilized for a variety of applications including;

low cost automotive networks

interfaces for sensors and actuators
Block Diagram of the LIN Bus Master/Slave Controller Core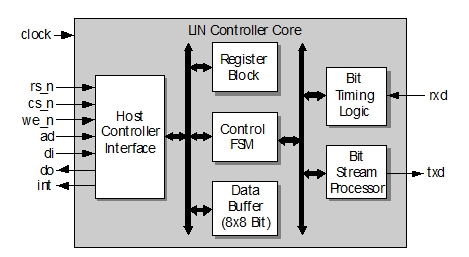 ---
View LIN Bus Master/Slave Controller Core full description to...
see the entire LIN Bus Master/Slave Controller Core datasheet
get in contact with LIN Bus Master/Slave Controller Core Supplier
LIN Bus Master/Slave Controller Core IP