You are here:
LINFlexD Controller (70035)
The LINFlexD Controller is a serial communication interface designed for Local Interconnect Network (LIN) applications. The LINFlexD manages a high number of LIN messages efficiently with a minimum of CPU load. The LINFlexD supports LIN protocol versions 1.3, 2.0, 2.1, and 2.2 and provides an 8-byte buffer for transmit/receive data. The LINFlexD provides a configurable, programmable DMA interface for transmit and receive data for both LIN and UART operating modes.

Features
Fractional baud rate generator

Three operating modes for power saving

Loopback mode for testing

LIN Mode:

Supports LIN protocol versions 1.3, 2.0, 2.1, and 2.2

Supports LIN master and slave modes

Bit rates up to 20 Kbit/s

Classic and enhanced checksum calculation and check

Single 8-byte buffer or FIFO for transmission and reception

Autonomous header handling and transmit/receive data handling in slave mode

Supports up to 16 identifiers

DMA interface with single channels for master mode transmit and receive and configurable numbers of channels for slave mode transmit and receive

UART Mode:

Full-duplex communication

Programmable baud rate up to 25 Mbit/s

Separate clock for baud rate calculation

DMA interface with separate channels for transmit and receive
Deliverables
Verilog RTL source code

Test bench with test suites

Documentation including User's Guide and Integration Guide

Technology-independent synthesis constraints
Block Diagram of the LINFlexD Controller (70035) IP Core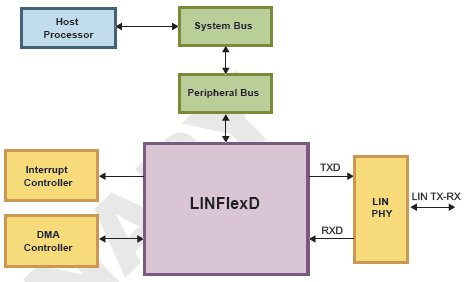 ---
View LINFlexD Controller (70035) full description to...
see the entire LINFlexD Controller (70035) datasheet
get in contact with LINFlexD Controller (70035) Supplier