You are here:
LMS Adaptive Channel Equalizer
The AH1001_LEQ LMS Adaptive Channel Equalizer (LEQ) FPGA core provides a 17-tap Least Mean Squares (LMS) signed-error adaptive Channel Equalizer in a single module. The core provides automatic adaptive equalization of channel distortion and multipath effects for single-carrier communication systems.

Features
17-tap T-spaced complex-arithmetic LMS signed-error Channel Equalizer

Adaptation bandwidth control (mu, step size)

Leakage rate control (forgetting factor)

Coefficient hold control (adaptation freeze)

Coefficient reset control

IQ channel and cross-tap coefficient readout

Center taps are fixed for phase stability

Multiplexed architecture minimizes resource utilization. Requires only 17 DSP48 blocks.

Clock rates up to 548 MHz supported

Symbol rates up to 1/5 of clock rate
Benefits
Restores link performance in the presence of common channel impairments such as multipath reflections, cable tilt, filter distortion, or other effects

Includes full readout capability of complex tap coefficient values for channel analysis

Low complexity for hardware and power efficiency

Adaptation rate control provides flexibility
Deliverables
Product License

EDIF or NGC core

Verilog Test Bench

Supporting Matlab/Octave code for test vector generation and analysis

Verilog simulation model

Product Documentation
Applications
Single-carrier Communication Links

Terrestrial Microwave Links

Cellular Backhaul

Cable Modems

Point-to-Point or Point-to-Multipoint systems
Block Diagram of the LMS Adaptive Channel Equalizer IP Core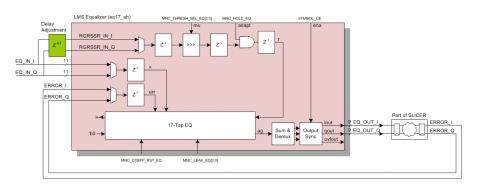 ---
View LMS Adaptive Channel Equalizer full description to...
see the entire LMS Adaptive Channel Equalizer datasheet
get in contact with LMS Adaptive Channel Equalizer Supplier