You are here:
Low-Latency AVC/H.264 Baseline Profile Decoder Core
The H264-D-BP IP core is a video decoder complying with the Constrained Baseline Profile of the ISO/IEC 14496-10/ITU-T H.264 standard. It implements a hardware decoder with very low latency and high throughput that is suitable for live streaming and other delay-sensitive applications up to full HD resolution.

The decoder adds just one macroblock line of latency, which means a negligible real-world latency under one msec for most widely used video formats, including HD/720p and Full-HD/1080p video.

The H264-D-BP is designed for straightforward, trouble-free SoC integration. It operates on a stand-alone basis such that decoding proceeds with no assistance or input from the host processor. The decoder's memory interface—used to store reconstructed video data—is extremely flexible: it operates on a separate clock domain, is independent from the external memory type and memory controller, and is tolerant to large latencies. The decoder reports decompressed video parameters, detects and reports bit stream errors to the system, and simplifies video cropping at its output. The core is optionally delivered with a raster-to-block converter, and wrappers for AMBA® AHB, AXI, or AXI-Streaming buses are available.
Features
Constrained Baseline Profile AVC/H.264 decoder

Ultra-Low-Latency: less than one msec latency for most widely used formats

High performance: 2.5 cycles per pixel; Full-HD capable

Support

ISO/IEC 14496-10/ITU-T H.264, Constraint Baseline Profile specification

I and P slices

Multiple slices per frame

Multiple reference frames

Multiple sequence parameter sets (SPS)

Multiple picture parameter sets (PPS)

In-loop deblocking filter

CAVLC entropy decoding

Real time performance up to level 4.1

Video Formats

Progressive, 4:2:0 YCbCr with 8 bits per color sample

From QCIF (176x144), to 2048x2048 resolutions

Low Latency

No decoded frame buffering

Decoded pixels are streamed-out output with less than one macro-block lines of latency

Less than 1 msec for almost all widely used video formats

Ease of Integration

Zero CPU overhead, stand-alone operation

AMBA® AXI external memory interface: uses separate clock, is independent of memory type and tolerant to latencies

Streaming interfaces for bit-stream and pixel data, with flow control; easily bridged to AMBA® AXI Streaming

Error catching and reporting capability

Reports video format and enables cropping

Optional Block to Raster

Maturity

Silicon proven

Verified with Fraunhofer H.264 Compliance Test Streams suite
Deliverables
Source-code VHDL (ASICs) or as a targeted netlist (FPGAs)

Sophisticated self-checking Testbench

Synthesis scripts.

Simulation script, vectors and expected results.

Software Bit-Accurate Model

Comprehensive user documentation
Applications
The H264-D-BP is suitable for broadcasting, surveillance, industrial, defense, and medical live-streaming applications with low-latency requirements and resolutions up to Full-HD.
Block Diagram of the Low-Latency AVC/H.264 Baseline Profile Decoder Core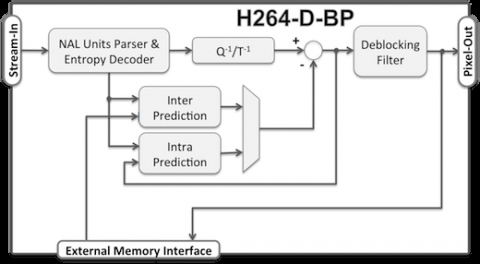 ---
View Low-Latency AVC/H.264 Baseline Profile Decoder Core full description to...
see the entire Low-Latency AVC/H.264 Baseline Profile Decoder Core datasheet
get in contact with Low-Latency AVC/H.264 Baseline Profile Decoder Core Supplier