You are here:
Low-Power Programmable LDO
The eLDO018-I is a low-power programmable regulator that provides up-to 100mA of load current. The output voltage is programmable. The eLDO018-I employs a PMOS as its pass device allowing its low-drop operation. The regulator uses 3.3V thick oxide devices from XS018 technology. The LDO can be scaled for various ranges of currents and voltages. A 4.7µF external capacitor is required to ensure stability.
Features
XFAB XS018 Technology

1P6M 3.3V/1.8V Standard Digital Lib

3.3V ±10% Analog Supply

1.8V Digital Supply

Operating Temperature Range: -40/+125°C

Operating Current of 100µA

Voltage Drop of 0.25V @ 100mA

Power Down Current of <1µA

Load Regulation of 0.1%

Line Regulation of 0.5%

Max PSSR of -20dB up to 100MHz

Programmable output voltage from 3.0V to 1.4V.

Area o 2.5mm × 600µ
Deliverables
LEF view

GDSII

LVS netlist and report

DRC/ERC/ESD/ANT report

Verilog HDL behavioral model

Liberty (.lib) timing constraints

Datasheet /Application Note

Integration Guidelines Document

Silicon Characterization Report When Available
Applications
Image Sensors

Low-power Sensors

Low-power Medical Equipment
Block Diagram of the Low-Power Programmable LDO IP Core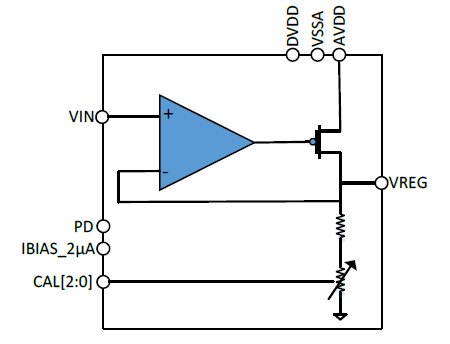 ---
View Low-Power Programmable LDO full description to...
see the entire Low-Power Programmable LDO datasheet
get in contact with Low-Power Programmable LDO Supplier