You are here:
LRW-AES Core
Implementation of the older drafts standard IEEE P1619 required the NIST standard AES cipher in the LRW mode for encryption (AES-LRW). Note that the new drafts of the P1619 call for a different mode, XTS-AES (see our XTS cores). The LRW1 AES core is tuned for storage applications at the data rates of 3 Gbps and higher. The LRW2 family of cores covers a wide range of area / throughput combinations, allowing the designer to choose the smallest core that satisfies the desired clock/throughput requirements. All LRW cores contain the base AES core AES1 and are available for immediate licensing. LRW3 family is similar to LRW2, but supports 256-bit AES keys and no-penalty key and IV changes.

The design is fully synchronous and available in both source and netlist form.

Features
Small size: LRW1 starts at 30,000 ASIC gates at throughput of 12.8 bits per clock

Synthesized for 600+ MHz clock speeds (70+ Gbps throughput for LRW2-128)

Completely self-contained: does not require external memory

Supports Liskov-Rivest-Wagner encryption and decryption (LRW-AES a.k.a. AES-LRW)

Includes LRW-AES encryption, LRW-AES decryption, key expansion and data interface

No penalty for key and IV changes (back-to-back operation)

128+128 bit LRW keys supported. 256+128 bit key supported by LRW3.

Easily parallelizable for higher data rates

Test bench provided
Deliverables
HDL Source Licenses

Synthesizable Verilog RTL source code

Test bench (self-checking)

LRW-AES vectors for testbenches

Expected results

User Documentation

Netlist Licenses

Post-synthesis EDIF

Testbench (self-checking)

LRW-AES vectors for testbenches

Expected results

Place & Route script
Applications
Block Diagram of the LRW-AES Core IP Core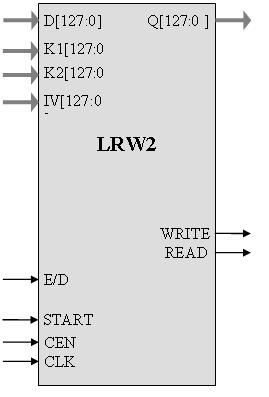 ---
View LRW-AES Core full description to...
see the entire LRW-AES Core datasheet
get in contact with LRW-AES Core Supplier