You are here:
LTE NB-IOT (NB1) power optimized transceiver for cellular IoT
Palma Ceia SemiDesign offers a low power, 3GPP Release 14 NB-IOT (LTE Cat NB1) transceiver. The transceiver IP is targeted for the Internet of Things (IoT) and Machine-to-Machine (M2M) applications.
The transceiver performance conforms to the LTE NB-IOT specification, part of Release 14 from 3GPP for Low Power Wide Area (LPWA) applications that connect large numbers of sensor-type devices. The transceiver operates supporting both high- and low-bands compliant with the 3GPP Rel. 14 specification. The NB-IOT transceiver chip is single mode specifically for the bandwidth per channel and modulation requirements for NB1 and as such provides optimal power for the performance required. The transmitter offers high linearity, high output 1dB compression, high ACR, high power range and low noise. It includes necessary control for Carrier Suppression (CS) including the calibration path through the receiver. The receiver design offers high gain, high linearity, high selectivity, high signal range and low noise figure. The receiver has internal calibration schemes for DC offset correction and provides the necessary control knobs for IQ mismatch correction. The transceiver offers a low power profile including the radio and PA for +20dBm output. This solution is immune from reflected power concerns when the VSWR is diminished
Features
• Meeting the performance requirements of 3GPP LTE Advanced Release 14 for NB-IOT

• Support for Low Band (LB), from 699MHz to 960MHz: bands 5, 8, 12, 13, 17, 18, 19, 20, 26, 28.

• Support for High Band (HB), from 1695MHz to 2200MHz: bands 1, 2, 3, 66, 70

• Direct conversion receiver with a noise figure of less than 2.5 dB

• Highly linear architecture offering operating margin exceeding 3GPP linearity requirements

• Self-contained calibration and correction schemes for better performance and high yield

• Fully automated DC offset correction and I/Q calibration scheme

• Total RX current of 15mA and TX current of 22mA at max power

• Targeted 200kHz implementation offers lower power versus LTE-M1 at 1.4MHz
Benefits
* Easy link to commercial cellular networks

* Low power design for maximizing batter life

* Robust performance for the best response in the field

* Built-n calibration for maximizing performance

* Optimized for NB-IOT 3GPP Release 13 at 200kHz
Deliverables
GDS

User Documentation

Test Bench
Applications
Consumer and Industrial IoT

M2M Communications

Low Power Wide Area Sensor Networks

Wearables

Automotive Vehicle to Infrastructure Communications
Block Diagram of the LTE NB-IOT (NB1) power optimized transceiver for cellular IoT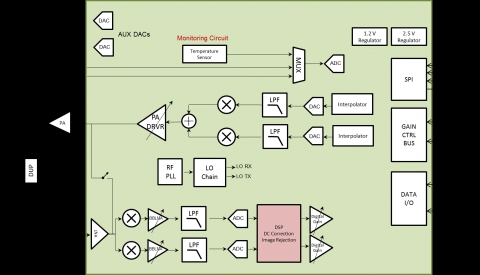 ---
View LTE NB-IOT (NB1) power optimized transceiver for cellular IoT full description to...
see the entire LTE NB-IOT (NB1) power optimized transceiver for cellular IoT datasheet
get in contact with LTE NB-IOT (NB1) power optimized transceiver for cellular IoT Supplier