You are here:
LVDS IO Pad Set
The LVDS library provides an LVDS driver, receiver, and temperature stable voltage reference capable of supporting 16 drivers operating at data rates up to 2.4 Gbps. The pad set includes a full complement of power, spacer, and adapter cells to assemble a complete pad ring by abutment. An included rail splitter allows isolated LVDS domains to be placed in the same pad ring with other power domains while maintaining continuous VDD/VSS in the pad ring for robust ESD protection.
Features
Powered from 1.8V ±10% and 1.0V (±10%) to 1.1V (-10%/+5%) core power supplies

Operates up to 1.2GHz (2.4Gbps)

Input receive sensitivity of 75mV peak differential (without hysteresis)

Common mode range from 0V to 2.4V (limited by Power Supply)

Power-up sequence independent

Power consumption is 1.8 mW typical and 5 mW maximum
Deliverables
a. Physical abstract in LEF format (.lef)

b. Timing models in Synopsys Liberty formats (.lib and .db)

c. Calibre compatible LVS netlist in CDL format (.cdl)

d. GDSII stream (.gds)

e. Behavioral Verilog (.v)

f. Layout Parasitic Extraction (LPE) SPICE netlist (.spice)

g. Databook (.pdf)

h. Library User Guide - ESD Guidelines (.pdf)
Block Diagram of the LVDS IO Pad Set IP Core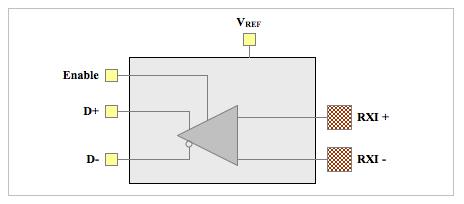 ---
View LVDS IO Pad Set full description to...
see the entire LVDS IO Pad Set datasheet
get in contact with LVDS IO Pad Set Supplier