You are here:
MACsec Engine
In current networking technologies, source authentication, data integrity and confidentiality are becoming more and more important. There exist numerous software implementations for security protocol suites on nearly all OSI layers, but these implementations are not well suited for timing-critical, high throughput applications. On OSI layer 2 (data link layer), MACsec is the transport security protocol of choice. The BA451 is a very scalable engine implementing the MACsec standard for high throughput applications.

Features
Can aggregate several 10, 40 or 100 GBE link

Throughput from 10 Gbps up to 800 Gbps

Scalability enabling trade-off between throughput, area and latency

Supports AES-GCM-128/256

Available for ASIC and FPGA

Compliant with IEEE 802.1AE , 802.1AEbn and 802.1AEbw

Datapath from 128 to 1024 bits

Interface to TCAM

SecTag add/remove

ICV generation/check

Classification

Bypass mode
Applications
Cloud computing

Data center equipment and applications
Block Diagram of the MACsec Engine IP Core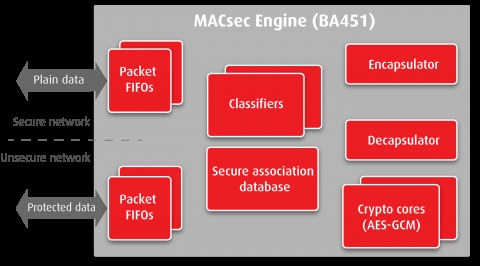 ---
View MACsec Engine full description to...
see the entire MACsec Engine datasheet
get in contact with MACsec Engine Supplier