You are here:
Median Filter
Median filtering is a popular method of noise removal, employed extensively in applications involving speech, signal and image processing. This non-linear technique has proven to be a good alternative to linear filtering as it can effectively suppress impulse noise while preserving edge information. The core's flexible architecture supports a wide variety of video frame sizes on various Lattice device families. A simple IO handshake makes the core suitable for either streaming or bursty input video data.
Features
Single color plane

Three filter window sizes: 3x3, 5x5 and 7x7

Configurable input data width

Input frame size set at compile-time

Static active region selection

Edge mode handling: COPY, MIRROR or VALUE

Optional clock enable and synchronous reset ports
Block Diagram of the Median Filter IP Core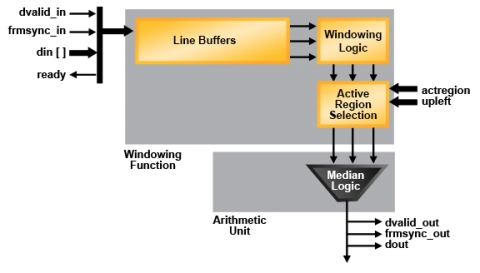 ---
View Median Filter full description to...
see the entire Median Filter datasheet
get in contact with Median Filter Supplier