You are here:
Mentor Graphics M8052 8-bit Microcontroller
The M8052 is a straightforward implementation of an 8-bit microcontroller and is clock for clock compatible with the classic Intel 87C51 and 87C52 devices. To achieve this precise compatibility, this design uses a 12 clock per machine cycle architecture, featuring two memory accesses in each machine cycle. Instructions typically take either 12 or 24 clock cycles to execute. Only the multiply and divide instructions take longer, consuming 48 clock cycles.

The M8052 is typically used in applications that require the microcontroller core to be a drop-in replacement for a discrete 8051 device. These designs tend to be easier to adopt than optimised 8051 implementations, because they maintain precise clock cycle compatibility with older devices. Preservation of the precise clock-to-instruction ratio is often a requirement where existing software relies on timing relationships with peripheral devices such as interrupts, counters, timers etc.

The M8052 is similar to the M8051, except that the M8052 includes an additional 16-bit counter timer and has the capacity to address 256 bytes of register memory.
Features
Binary and clock cycle compatible with Intel 8051 designs

Classic 12 ­clock machine cycle implementation

Separate data and code address spaces (Harvard architecture)

64Kbyte program and data address spaces

256 byte internal data memory address space

Support for memory banking extensions

Optional demultiplexed program and data interfaces

6 ­input, two level interrupt controller

32 GPIO ports

3 16­bit counter timers

Full­duplex serial port

Flexible interfacing options for external peripherals

Power saving modes: powerdown, idle and run
Benefits
The core RTL is configurable at compile time. Major configuration options include: Combined program and data address space or Harvard architecture; Code memory size; External data memory size

Internal data memory size

Power Management: The M8052 offers two power saving states. These are implemented by dividing the core logic into two synchronous clock domains using optional clock gates. These reduce power consumption by 75% in the idle state and to leakage levels in the powerdown state.

Programming Support: The core runs all standard 8051 binary code. Syntill8 recommends Keil C51 compiler for code development.
Deliverables
VHDL '93 and Verilog 1995 RTL source code

RTL configuration script

VHDL and Verilog Testbenches

Demonstration assembly code

Simulation scripts for Modelsim and Cadence

Synopsys synthesis compile scripts and UCF timing constraint files

Mentor and Synopsys DFT and ATPG scripts

Example netlist implementation with SDF files

Detailed product specification and a user guide containing implementation notes.
Block Diagram of the Mentor Graphics M8052 8-bit Microcontroller IP Core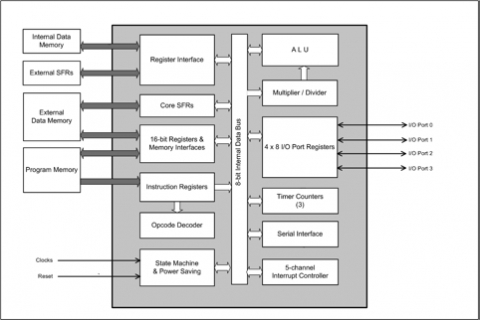 ---
View Mentor Graphics M8052 8-bit Microcontroller full description to...
see the entire Mentor Graphics M8052 8-bit Microcontroller datasheet
get in contact with Mentor Graphics M8052 8-bit Microcontroller Supplier