You are here:
Mid-range, feature-rich 64-bit MIPS CPU
The MIPS I6400 multiprocessor core brings the proven and respected MIPS64® architecture and a suite of key new features and capabilities to a wide range of markets and applications.

The I6400 is a major step forward as the next generation of the MIPS I-class product line. It achieves superior performance/efficiency levels and incorporates compelling new features such as simultaneous multi-threading (SMT), hardware virtualization, 128-bit SIMD, advanced power management, multi-context security, and extensibility to coherent multi-cluster operation.

Features
I6400 Base Core Features

64-bit MIPS64® Release 6 Instruction Set Architecture.

Proven, successful, well supported 64-bit architecture.

Superset of MIPS32 – runs MIPS32 software directly.

Balanced, 9-stage, dual-issue pipeline with Simultaneous Multi-Threading (SMT).

Superscalar on a single thread or two threads simultaneously per cycle.

Up to 4 threads per core.

Instruction bonding – merges sequential integer or floating point loads or stores into one operation for up to 2x increase on memory-intensive data movement routines.

New high-performance dual-issue FPU/SIMD Unit – optional.

32 x 128-bit register set, 128-bit loads/stores to/from SIMD unit.

Native data types:

8-/16-/32-/64-bit integer and fixed point, 16-/32-/64-bit floating point

IEEE-754 2008 compliant.

Full hardware virtualization. Provides root and guest privilege levels for kernel and user space.

Supports multiple guests, with full virtual CPU per guest = guest OSs run unmodified.

Separate TLBs, COP0 contexts for root and guests –> full isolation, fast context switching, exception and interrupt handling by root.

Complete SoC virtualization support (IOMMU and interrupt handling – see multi-core features).

L1 cache

Instruction and Data of 32KB or 64KB each with ECC, 4-way set associative.

Programmable Memory Management Unit (MMU)

1st and 2nd level TLBs with arrays for variable and fixed page size support.

Coherent Multi-Core Processor Features

Complete multi-core system designed for maximum cluster-level bandwidth.

Coherence manager.

Supports multi-core configurations up to six cores in a single cluster.

New directory-based coherency scheme – improves power consumption, performance and scalability.

Extensibility to multi-cluster implementations.

Multiple I/O coherency (IOCU) interfaces.

Global interrupt controller (GIC) with 256-interrupts.

High-bandwidth 256-bit internal data paths and external system interface.

Integrated L2 cache (L2$): 16-way set associative, up to 8MB of memory.

ECC option on L2$ RAM for higher data reliability.

Configurable wait states to RAM for optimal L2$ design.

L2$ hardware pre-fetch for higher throughput and performance.

Advanced power management.

Core-level DVFS (dynamic voltage and frequency scaling) – each core can be run independently at it's own clock and voltage level.

Virtualization support at system and SoC level.

IOCUs include I/O MMU, GIC has virtualized interrupts.

Guest ID brought out on system i/f for integration into virtualized SoC design.

Advanced debug capabilities – PDtrace subsystem allows visibility to core- and cluster-level trace information.
Benefits
Brings MIPS64® – a proven, successful, well supported 64-bit architecture – to a much broader set of customers as a licensable IP core.

Delivers compelling performance/power/area form factors, flexibility and features well suited for broad range of markets and applications, from deeply embedded to automotive to consumer/mobile and all the way up to enterprise class storage/server/dataplane solutions.

128-bit SIMD – accelerates execution of audio, video, graphics, imaging, speech and other DSP-oriented software algorithms, with instruction set designed for development in high level languages such as C, OpenCL.

OmniShield security technology – ensuring that applications that need to be secure are effectively and reliably isolated from each other, as well as protected from non-secure applications.

Multiple context security platform for enterprise/consumer partitioning, secure content access, payments/transactions, and isolating secure schemes from numerous content sources.

Broad software and ecosystem support and mature toolchain.

Available as synthesizable IP, for implementation in any process node, with standard cells and memories.
Block Diagram of the Mid-range, feature-rich 64-bit MIPS CPU IP Core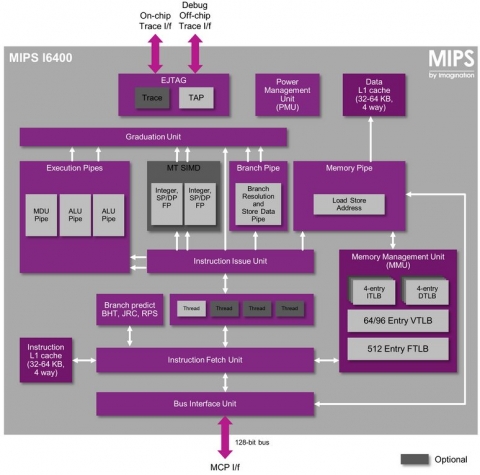 ---
View Mid-range, feature-rich 64-bit MIPS CPU full description to...
see the entire Mid-range, feature-rich 64-bit MIPS CPU datasheet
get in contact with Mid-range, feature-rich 64-bit MIPS CPU Supplier