You are here:
MIPI Compliant D-PHY
The MIPI D-PHY is compliant with the MIPI Alliance Standard for D-PHY. Although it is primarily used for connecting cameras and display devices to a cost processor, it can also be used for many other portable applications. It is used in a master-slave configuration. High-Speed signals have a low voltage swing, while Low-Power signals have large swing. High Speed functions are used for High-Speed Data traffic while low power functions are mostly used for control.
Features
Complies with MIPI Standard for D-PHY V1.0

Point-to-point differential interface supporting multiple data lanes and a clock lane

Supports both high speed and low-power modes

Data lanes support both bidirectional and unidirectional modes

Clock lane supports unidirectional communication

80 Mbps to 1Gbps data rate in high speed mode

10 Mbps data rate in low-power mode

Modular design to allow for all possible configurations

Low power dissipation
Deliverables
Data Sheet/Specifications

GDSII data base

LVS Netlist

Integration Guidelines

Timing Model

Behavioral Model

LEF File for P&R
Block Diagram of the MIPI Compliant D-PHY IP Core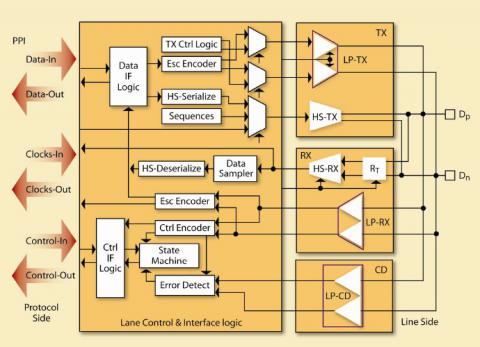 ---
View MIPI Compliant D-PHY full description to...
see the entire MIPI Compliant D-PHY datasheet
get in contact with MIPI Compliant D-PHY Supplier