You are here:
MIPI® CSI-2 SLAVE D-PHY IP
The MXL-DPHY-CSI2-RX is a high-frequency low-power, low-cost, source-synchronous, Physical Layer supporting the MIPI Alliance Specification for D-PHY v1.2. The IP is configured as a MIPI Slave optimized for CSI-2 (Camera Serial Interface) applications.
The High-Speed signals have a low voltage swing, while Low-Power signals have large swing. High-Speed functions are used for High-Speed data traffic while low power functions are mostly used for control.
Features
Consists of 1 Clock lane and up to 4 Data lanes

Supports MIPI® Alliance Specification for D-PHY Version 1.2

Supports both high speed and low-power modes

80 Mbps to 1.5 Gbps data rate per lane in D-PHY mode without Deskew

Up to 2.5 Gbps data rate per lane in D-PHY mode with Deskew

10 Mbps data rate in low-power mode

High Speed De-Serializers included

Low power dissipation

Testability support

Optional resistance termination calibrator
Benefits
Comprehensive embedded DFT features for allowing cost-effective high-volume manufacturing tests

The D-PHY system is provided as a combination of Soft IP views (RTL, and STA Constraints) for Digital Module, and Hard IP views (GDSII/CDL/LEF/LIB) for the Mixed Signal Module.

This unique offering of Soft and Hard IP permits architectural design flexibility and seamless implementation in customer-specific design flow.
Deliverables
Datasheet

GDSII and LVS Netlist

LEF

Physical Verification Report

Integration Guideline

Timing Model and Behavioral Model

RTL

One year support
Applications
Automotive

Mobile

IoT

Consumer Electronics

VR

AR
Block Diagram of the MIPI® CSI-2 SLAVE D-PHY IP IP Core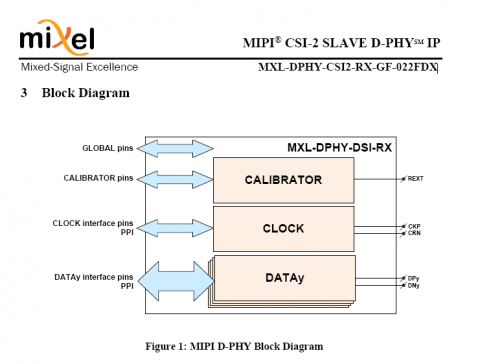 ---
View MIPI® CSI-2 SLAVE D-PHY IP full description to...
see the entire MIPI® CSI-2 SLAVE D-PHY IP datasheet
get in contact with MIPI® CSI-2 SLAVE D-PHY IP Supplier