You are here:
MIPI D-PHY Universal Lane 16FFC IP for Automotive
The MXL-DPHY-UNIV is a high-frequency low-power, low-cost, source-synchronous, physical Layer supporting the MIPI Alliance Specification for D-PHY v1.2.
The IP can be configured as a MIPI Master or MIPI Slave optimized for CSI-2SM (Camera Serial Interface), and DSISM (Display Serial Interface) applications.
The High-Speed signals have a low voltage swing, while Low-Power signals have large swing. High-Speed functions are used for High-Speed data traffic while low power functions are mostly used for control.

The D-PHY supports a bit rate range of 80 to 1500 Mbps per Lane without deskew calibration and up to 2500 Mbps with deskew calibration.
The maximum data rate in low-power mode is 10 Mbps. For a fixed clock frequency, the available data capacity of a PHY configuration can be increased by using more lanes. Effective data throughput can be reduced by employing burst mode communication.
Features
Supports MIPI® Specification for D-PHY Version 1.2.

Optimized for Automotive applications.

Fully functional -40°C to 150°C Tj.

Designed to achieve CPK of 2.0 across PVT.

One Clock Lane and Four Data Lanes.

Supports both high speed and low-power modes.

80 Mbps to 1.5 Gbps data rate per lane without DeSkew calibration.

Up to 2.5 Gbps data rate per lane with DeSkew calibration.

10 Mbps data rate in low-power mode.

Low power dissipation.

Loopback testability support.

Optional resistance termination calibrator.
Benefits
Automotive ready

Low-power

Small area
Deliverables
Data Sheet

GDSII data base

LVS Netlist

Integration Guidelines

Timing Model

Behavioral Model

LEF File for P&R

RTL

One year support

Platform (optional)
Applications
Block Diagram of the MIPI D-PHY Universal Lane 16FFC IP for Automotive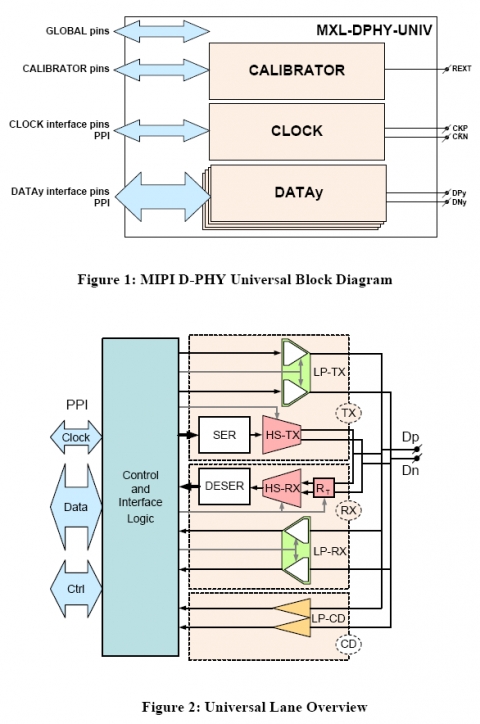 ---
View MIPI D-PHY Universal Lane 16FFC IP for Automotive full description to...
see the entire MIPI D-PHY Universal Lane 16FFC IP for Automotive datasheet
get in contact with MIPI D-PHY Universal Lane 16FFC IP for Automotive Supplier