You are here:
MIPI Universal D-PHY IP - 4.5Gbps/lane, MIPI D-PHY v2.5 Compliant
The MXL-D-PHY-UNIV-T-22ULP is a high-frequency, low-power, low-cost, source-synchronous, physical Layer supporting the MIPI Alliance Specification for D-PHY v2.5. The PHY can be configured as a MIPI Master or MIPI Slave supporting camera interface CSI-2 and display interface DSI/DSI-2 applications.
Features
Supports MIPI Alliance Specification for D-PHY Version 2.5

Backward compatible with MIPI Specifications for D-PHY v2.1, v1.2, and v1.1

Consists of 1 Clock lane and 4 Data lanes

Embedded high performance, highly programmable, PLL

PLL supports SSC mode, Fractional mode, and Integer mode

Supports both high speed and low-power modes

Up to 4.5 Gbps data rate per lane with Deskew calibration

Supports High Speed TX De-emphasis Equalization

Supports High Speed RX CTLE

10 Mbps data rate in low-power mode

Low power dissipation

Testability support including internal loopback

Calibrator for resistance termination
Benefits
Mixel D-PHY v2.5 supports speeds up to 4.5Gbps per lane, an aggregate data rate of 18Gbps. It supports all v2.5 features not available in previous versions of the specifications such as Spread Spectrum Clocking (SSC) and transmit equalization (de-emphasis). It also supports new power saving functionality such as HS-TX half swing mode and the HS-RX unterminated mode. The new Alternate LP Mode, suitable for IoT applications with long channels, is also supported, enabling Fast Bus Turnaround.
Deliverables
Datasheet

GDSII and LVS Netlist

Integration Guideline

Timing Model and Behavioral Model

RTL

One year support
Applications
Automotive

Mobile

IoT

Consumer Electronics

VR

AR
Block Diagram of the MIPI Universal D-PHY IP - 4.5Gbps/lane, MIPI D-PHY v2.5 Compliant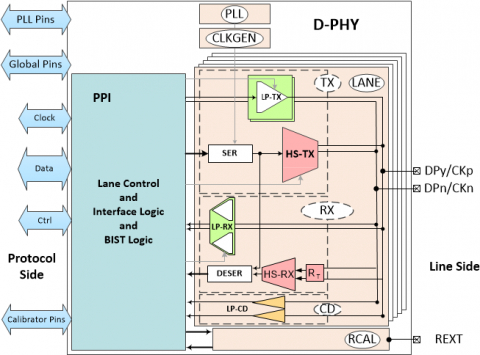 ---
View MIPI Universal D-PHY IP - 4.5Gbps/lane, MIPI D-PHY v2.5 Compliant full description to...
see the entire MIPI Universal D-PHY IP - 4.5Gbps/lane, MIPI D-PHY v2.5 Compliant datasheet
get in contact with MIPI Universal D-PHY IP - 4.5Gbps/lane, MIPI D-PHY v2.5 Compliant Supplier