You are here:
MIPS interAptiv Multiprocessor Core Family
Imagination's interAptiv family is the latest generation of the MIPS family multi-threaded (MT), multi-core, 32-bit processors from MIPS. The use of MT, improvements to multi-core performance, and additional core enhancements for error correction and power management, make interAptiv among the most performance-efficient and feature-rich CPU core in its class.

With the interAptiv core, designers have access to two virtual processing elements (VPEs), or hardware threads, which appear as two complete processors to an SMP operating system. These threads efficiently use a shared execution pipeline resulting in very high efficiency in terms of area and power relative to competing cores in the same class, as measured by the industry-standard CoreMark™ benchmark. Threads can also be managed using the hardware scheduler and inter-thread communication features. High efficiency and access to thread-level management make the interAptiv core the ideal solution for applications that are highly threaded and require support for Quality of Service (QoS).

Next-generation SoCs are increasingly moving towards multi-core designs even in mid-range markets such as the entry-level smart phone market. The interAptiv core utilizes our latest multi-core interconnect, the 2nd generation Coherence Manager (CM2), which has an integrated L2 cache. The CM2 improves multi-core performance by simultaneously reducing latency and increasing bandwidth. The CM2 supports up to four interAptiv CPUs or eight virtual processors in a single, fully coherent, multi-processor system.

Features
MIPS32® Release 2 Architecture

5-stage pipeline

1, 2, 4 or 8 sets of thirty-two 32-bit general-purpose registers

Memory Management Unit with simple fixed mapping translation (FMT)

Vectored interrupts and support for external interrupt controller

Atomic interrupt enable/disable

User-defined instruction-set adds (CorExtend) Extensions

Maintains full MIPS32® compatibility

Supported by industry-standard development tools

Single- or multi-cycle instructions

MIPS16e® ASE (Application Specific Extension)

16-bit encodings of 32-bit instructions to reduce code size by up to 40%

SRAM Interface

Single- or multi-cycle transaction latency

Separate or unified instruction and data memory interface

Integer Multiply/Divide Unit (MDU)

Fast or area-efficient, configurable at build time

Maximum issue rate of one 32x16 multiply per clock (fast MDU)

Maximum issue rate of one 32x32 multiply every other clock (fast MDU)

General Purpose Coprocessor (COP2) Interface

32-bit interface to an external coprocessor

Power Control

Power-down mode (triggered by WAIT instruction)

Support for software-controlled clock divider

Support for extensive use of local gated clocks
Block Diagram of the MIPS interAptiv Multiprocessor Core Family IP Core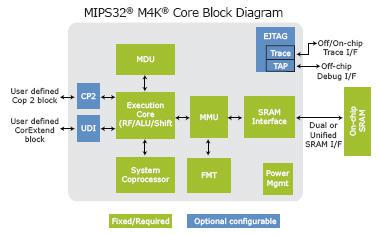 ---
View MIPS interAptiv Multiprocessor Core Family full description to...
see the entire MIPS interAptiv Multiprocessor Core Family datasheet
get in contact with MIPS interAptiv Multiprocessor Core Family Supplier