You are here:
MIPS proAptiv Superscalar Multiprocessor
The proAptiv™ processor family is part of the new MIPS Aptiv™ generation of processor IP cores from Imagination, designed to deliver the compelling top-line performance required for tomorrow's connected consumer electronics including smartphones, tablets, connected TVs and set-top boxes. proAptiv CPUs are based on a wide issue, deeply out-of-order (OoO) implementation of the MIPS32 architecture, and are available in single and multi-core product versions supporting up to six cores. The proAptiv family leverages a new base core microarchitecture, a new floating point unit (FPU), and an enhanced multi-core interconnect to deliver a major leap forward in performance over the previous generation of MIPS' IP cores, while implementing in nearly the half the size of competing cores in the same process node.

Features
Coherent Multi-Core Processor Features

Superscalar, deeply OoO multi-core processor – MIPS' new high performance processor core in a coherent multi-core platform

Complete multi-core system designed for maximum cluster-level bandwidth

2nd generation coherence manager (CM2) - higher performance through L2 cache integration and improvements to design

Higher speeds and lower latencies for increased throughput

High-bandwidth 256-bit internal data paths and external system interface

L2 cache: 4-way set associative, up to 8MB of memory

ECC option on L2$ RAM for higher data reliability

Configurable wait states to RAM for optimal L2$ design

Up to two IO Coherence Units (IOCU) per coherent processing system

Cluster Power Controller (CPC) for voltage/clock gating per-CPU

256-interrupt Global Interrupt Controller (GIC)

Advanced debug capabilities – PDtrace subsystem allows visibility to core- and cluster-level trace information

Application-optimized configurations – Single and multi-core versions available

Base Core Features

32-bit MIPS32® Release 3 Instruction Set Architecture

High-performance, 13-stage, wide issue, out-of-order (OoO) pipeline

Quad instruction fetch per cycle

Triple bonded dispatch per cycle

Instruction peak issue of 4 integer and 2 FPU operations per cycle

Sophisticated branch prediction scheme, plus L0/L1/L2 branch target buffers (BTBs), Return Prediction Stack (RPS), Jump Return Cache (JRC)

Instruction bonding – merges two 32-bit cache accesses into one 64-bit access for in2x increase on memory-intensive data movement routines

L1 cache size for Instruction and Data of 32KB or 64KB each, 4-way set associative

Programmable Memory Management Unit (MMU)

Enhanced Virtual Address (EVA) provides better utilization of 32-bit address space

1st level micro TLBs (uTLBs) – 16 entry inst TLB, 32 entry data TLB

2nd level TLBs – simultaneous access, variable fixed page sizes

64x2 entry VTLB, 512x2 entry 4-way set associative FTLB

MIPS DSP Application Specific Extension, version 2

4 accumulator register pairs, fractional data types, saturating arithmetic

SIMD instructions operate on 2x16b or 4x8b simultaneously

New high-performance dual-issue Floating Point Unit (FPU) - optional

IEEE-754 compliant

Runs at 1:1 frequency with CPU core

Lower latency on most FPU operations

Improved double precision operation throughput

More parallelism/dedicated schedulers => more ops sustained in-flight

Power Management Features

Multi-core cluster power controller (CPC):

Register-based, visible to/controllable by operating system

Per CPU voltage domain gating; per CPU clock gating

Cluster level DVFS capable

Core level

Course and fine-grained clock gating throughout core

Way prediction on data and instruction L1 caches

Instruction and register-based sleep modes

CorExtend® provides customization through user defined instruction set extensions

EJTAG/PDtrace debug blocks and interface

MIPS16e™ reduced code size ASE
Block Diagram of the MIPS proAptiv Superscalar Multiprocessor IP Core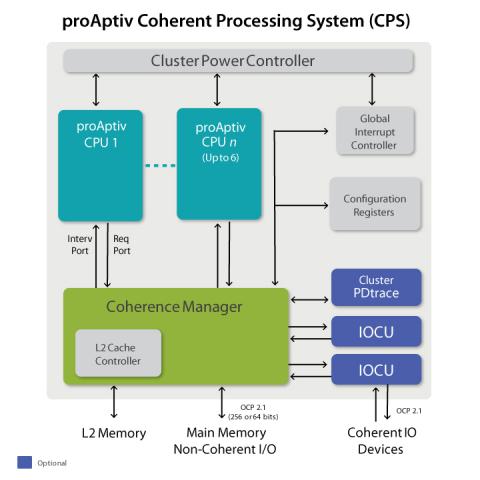 ---
View MIPS proAptiv Superscalar Multiprocessor full description to...
see the entire MIPS proAptiv Superscalar Multiprocessor datasheet
get in contact with MIPS proAptiv Superscalar Multiprocessor Supplier