You are here:
Mobiveil's P3041 AMC Board
AMCP3041 is a Single width and full height AMC card, designed based on Freescale's Quad core QorIQ series P3041 processor. The powerful Multi-core processor is best suited for both control plane and data plane applications along with the hardware acceleration engines.

The AMCP3041 provides interface to support a Mezzanine board. Mobiveil can develop DSP board of customers choice to be compatible with this board. This combination of Multi-Core QorIQ and DSP provides multi-protocol acceleration engines in a portable AMC form factor and provides complete Layer 1, 2, 3 baseband processing capability in applications like LTE, WiMAX, WCDMA, TD-SCDMA...

The built-in RAID support with SATA2 support enables the AMC card to be used in Storage Segment. The Data Path and Security engine facilitate DPI (Deep Packet Inspection) to be used in Network Security applications.
Features
Key Features

Single-width, full-height AMC Form factor

QorlQ P3041 processor with Quad e500mc cores operate upto 1.5GHz

On board DDR3 Memory support 1GB, 64bit

Time and Clock Management with PTP-IEEE1588, SyncE and Option GPS Timing Sync

CoreIPM based MMC

Rich Interface support both on User side and AMC Backplane

Front Panel Interfaces

A Virtual Com Port using FTDI USB console to access the P3041's UART and DSP UART.

Single 1Gigabit Ethernet interfaces for Processor Management.

Dual CPRI interfaces operate up to 6.144Gbps for RRH interconnection (Mounted if DSP Mezzanine card present)

Dual 1Gigabit Ethernet Optical interface to interconnect with RNC (Mounted if DSP Mezzanine card present).

Backplane interfaces

Single x4 PCI Express Gen-2

Single x4 sRIO Gen-2

Four QSGMII interfaces or One 10GbE XAUI interface

Dual SATA ver 2.0 operates 1.5Gbps and 3Gbps

LEDs

Blue LED for Hot-Swap functionality

Green LED for System Status
Benefits
Can used for Target Applications such as,

Wireless Basestation (LTE, WiMAX)

Media Gateway

Enterprise Network Access System

VOIP Gateway

Enterprise NAS

Network Security – UTM/IPS

High End Freescale multi core processor
Deliverables
Software Support

Uboot

Linux

Network Security Solution using Snort

FreeNAS

Documentation

Technical support including training
Block Diagram of the Mobiveil's P3041 AMC Board IP Core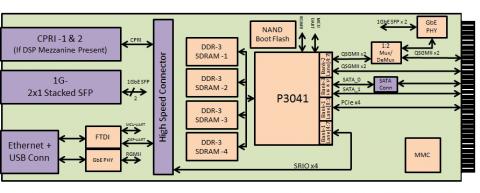 ---
View Mobiveil's P3041 AMC Board full description to...
see the entire Mobiveil's P3041 AMC Board datasheet
get in contact with Mobiveil's P3041 AMC Board Supplier